In the tradition of our Product Tours here on the Mining and Construction Blog, we asked our product managers, partners, and customers about their favorite twenty Epiroc equipment models this year, and just what makes them so capable in the US market. So, these are Super20!
For all the equipment product lines we have: Hydraulic attachment tools (heavy breakers and cutters), Underground Mining, Surface and Aggregates Mining, Environmental Well Drilling, as well as Construction and Demolition.
To go directly to each section:
Check #Epirocs20s2020 for content on Facebook, Linked In, and Twitter. Be sure to check back weekly as this blog will be continually updated until all 20 super picks are posted!
---
The Super 20 Picks for Summer 2020
---
Super20 for Summer 2020 our super pick in excavator attachments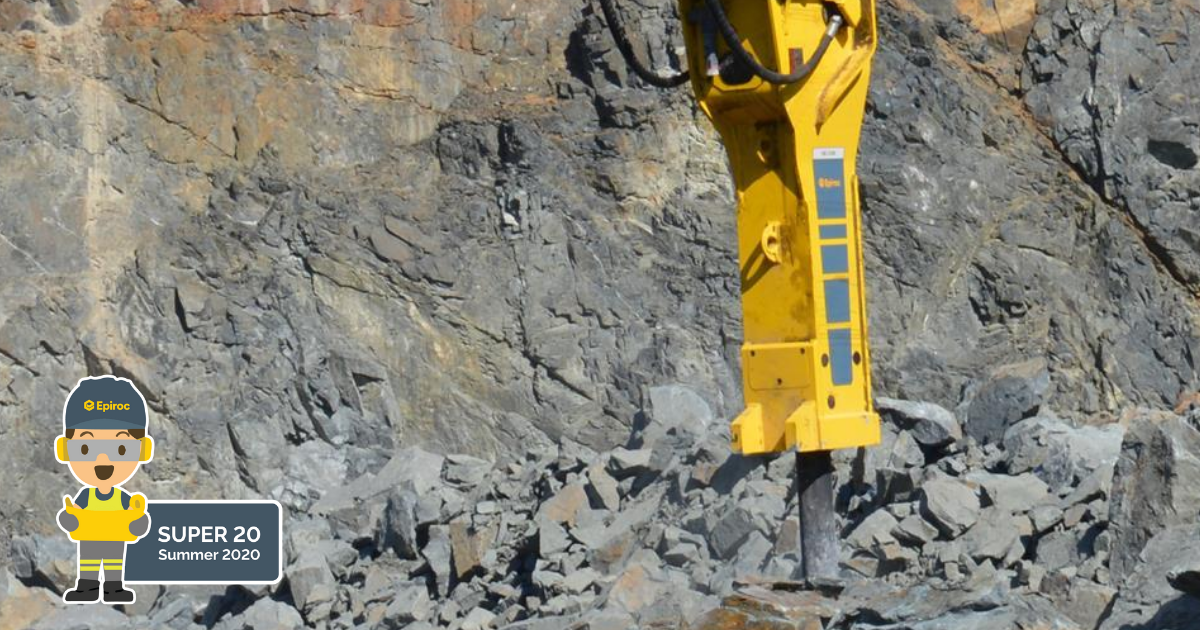 🔨 HB 3600 - Heavy Breakers for surface mining & quarrying
The HB 3600 is adaptable to challenging environments where rock and concrete vary in density. This heavy breaker fits a carrier weight class of 77,000 to 139,000 pounds, and has several premium features and technology designed to prevent breakage that put the usual manual breaker attachment into downtime maintenance.
The IPS 'Intelligent Protection System' enables each piston stroke to be measured against contact pressure and with variable density readings in real time for hardening and softening materials. The HB 3600 can work in underwater conditions, and all surface mining and demolition applications with cement or concrete.
Optional add-ons for this best in class heavy breaker include, built in water line dust and OSHA regulation silica suppression and HATCON smart tracking IoT productivity software.
To see Product Manager Rich Elliot go over the HB 3600, and other heavy breakers in our Hydraulic tools attachment line, go here.
---
Super20 for Summer 2020 our super pick in Underground Mining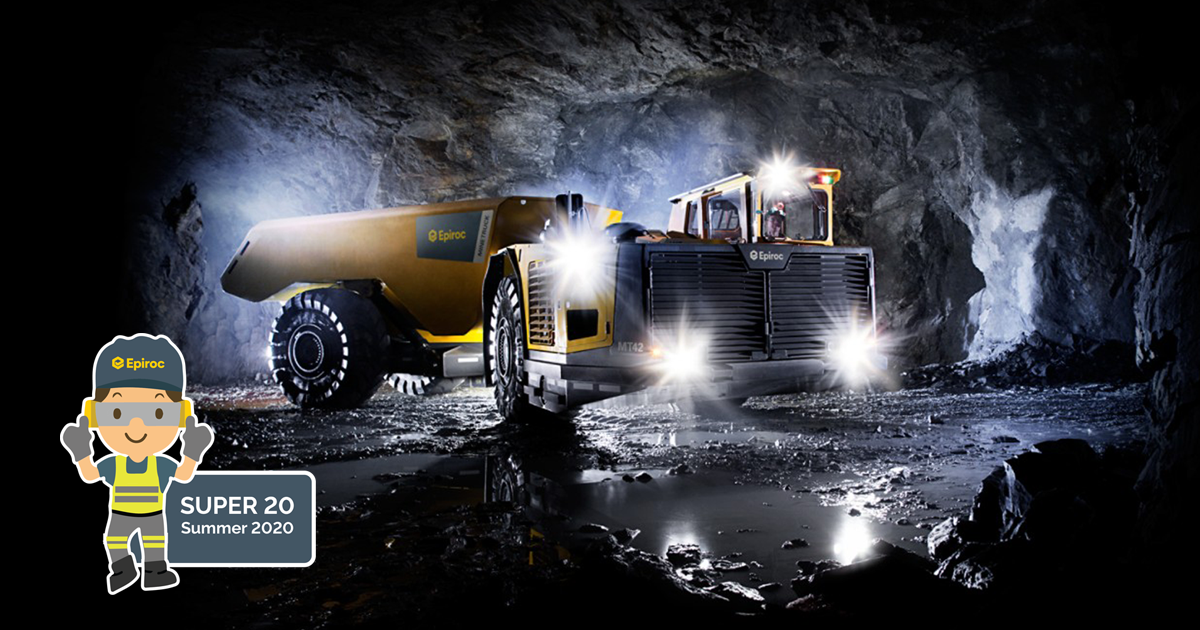 ⚡ MT 42 Minetruck
Electric mining equipment and trucks have been getting a lot of attention lately. There are many safety issues with emitting diesel fumes in underground mines that have limited, natural air ventilation.
Check out our previous story about this electric shift that we're experiencing as an industry. It's not just what's best for safety, but also for productivity.
Our patented engineered drive trains reuse most of the heat energy that is lost in standard diesel emission fumes. At Epiroc, safety and productivity are joint goals. When a new product is engineered it must excel, and be safe. With that in mind, our product designers built the MT42.
With Front-Axle suspension and ergonomic operator centered design, this underground truck excels at easy and fast loading with less spill on vertical inclines. The MT42 Minetruck is a haulage super hero with a solid haul of 42 tons. It's electric and has a zero emissions, net zero carbon footprint-- an ultra efficient drivetrain battery that recycles energy. Ventilation, heat management, and risk of fire in the underground work shaft will be an afterthought without toxic diesel fumes.
With optional TCO agreement and RigScan, build in service tech maintenance checks, and automatically detect parts changes issues ahead of any downtime.
---
Super20 for Summer 2020 our super pick in Hydraulic Attachments (breakers & cutters)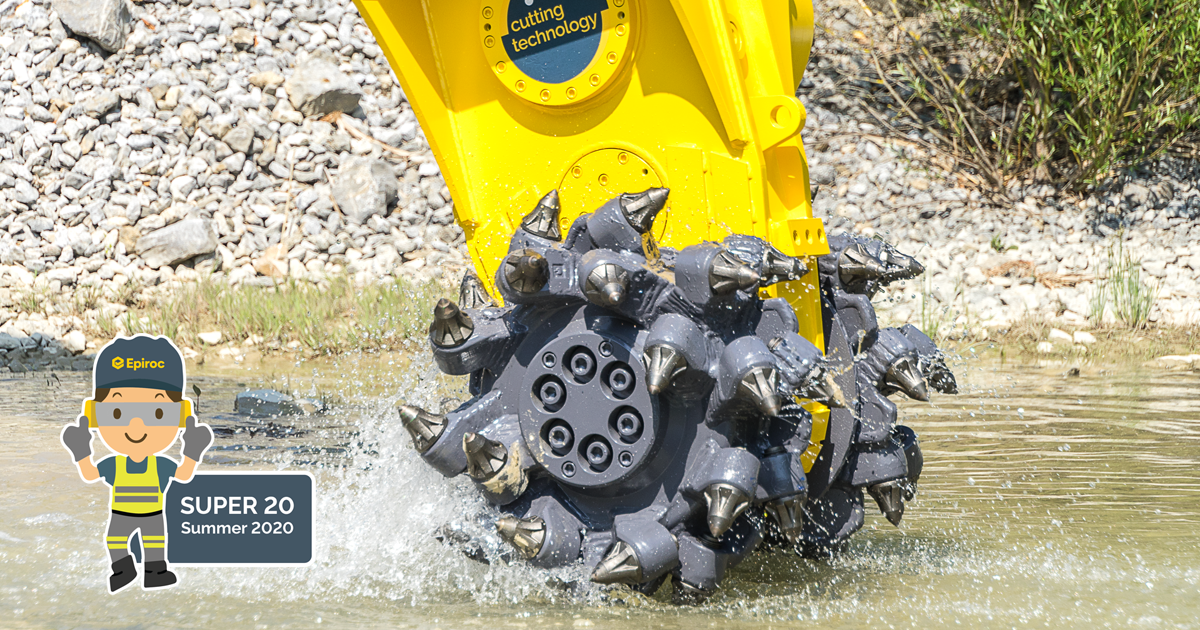 ⚙️ ER Series Drumcutter ER 1500x
The ER 1500x drum cutter has removable pick sleeves that offer diverse job application, and highly accurate material removal options for the underground construction trades: utility infrastructure, highway, trenching, foundations, tunneling, and demolition.
Low vibration and noise level engineering adds more functionality for environments where sound levels are a significant health and safety factor.
For tunneling, the ER series offers exceptional cutting power with overhead wall scaling, clean side walls and flat bottom shaping. ER 1500x has a universal bracket, robust spur gears, HARDOX housing design, QuickSnap retaining system for easy pick changes, and HATCON software for fleet productivity and tracking safety.
Options for the ER 1500x include the Pro bracket, Cutting wheels, Water spraying system for OSHA compliance dust suppression, or Dust Suction hood.
To learn more about the ER 1500x drumcutter and other Epiroc hydraulic attachments, see this video.
---
Super20 for Summer 2020 our super pick in Environment Well Drilling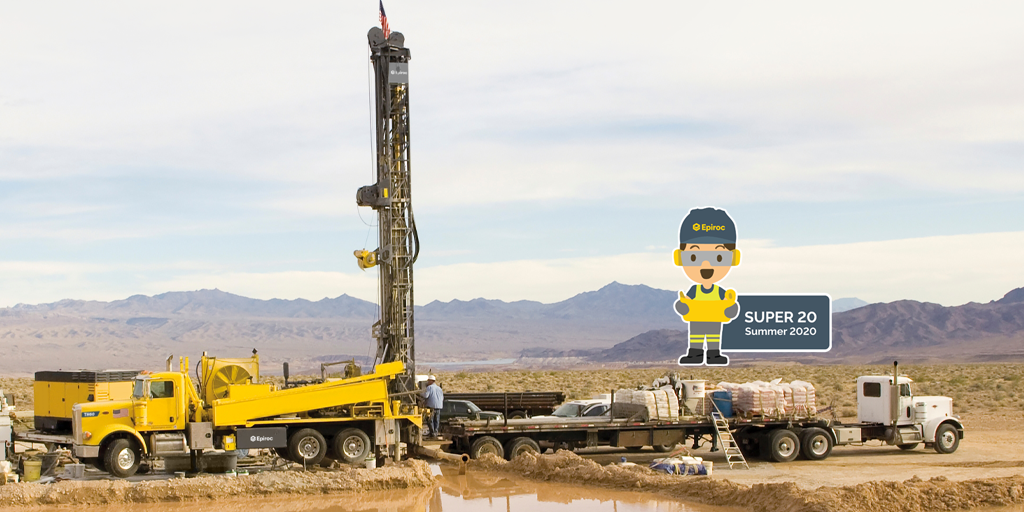 💦 TH 60
The classic TH60 is a standard bearer in the water well rig category. With a fast drill speed, and rotary flexibility this robust drill rig is a continual favorite of those in the environmental and water well drilling business.
The TH60 is manufactured in Garland, TX and is one of the most durable and reliable drill rigs available. With a pullback capacity of 35 tons, load sense hydraulics, and electronic air regulation system provide versatile tower functions, a robust lattice design, including a self-tensioning cable system, and electronic air regulation. This highly adaptable drill rig provides all the functional flexibility a well driller needs to get the job done.
The TH60 PTO water well drill is designed to help crews work faster in various applications. Fast drilling speeds, along with the flexibility for air rotary, mud, or DTH, make it a continual favorite among those in the business. Due to its single engine design, the maintenance deck is less noisy and accessible for easy repairs or additional storage.
Check out this recent story we did about a family-run well-drilling business in Northern California that recently bought a TH60, and renewed their legacy.
---
Super20 for Summer 2020 our super pick in Rotary Blasthole, Surface Mining, and Quarry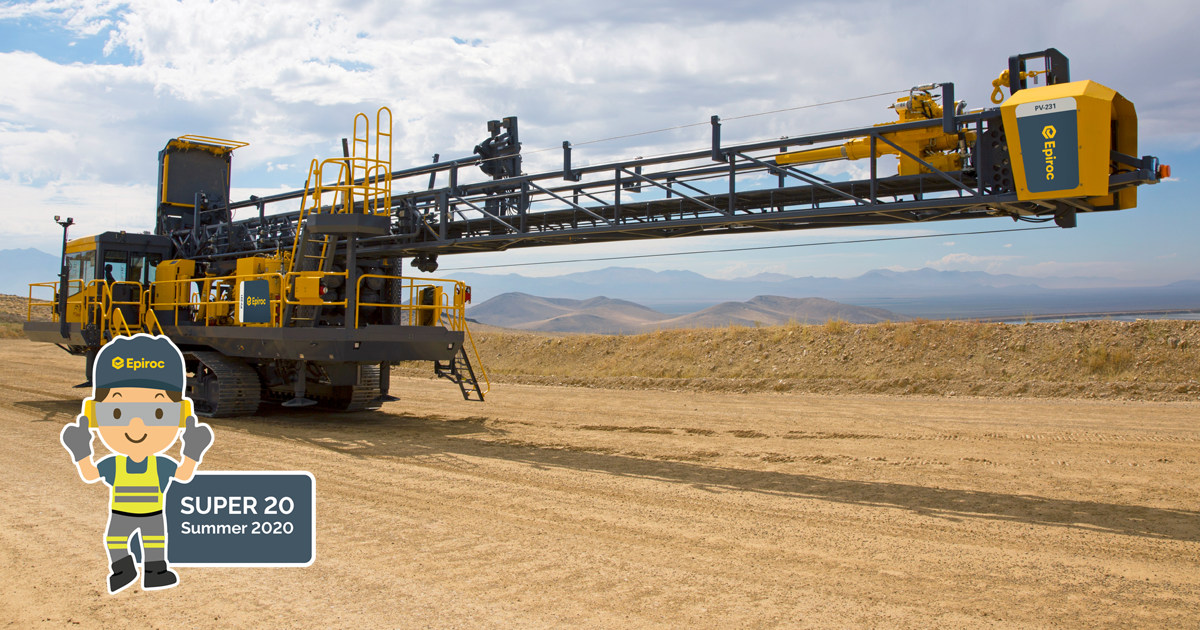 🐍 Pit Viper PV-231
Take a look at our Super20 for Summer 2020 our super pick in surface drilling solutions: Pit Viper 231 for rotary blasthole drilling.
The Pit Viper series is one of the more storied lines of products in the Epiroc universe. When it comes to the open pit and the quarry there is not a more flexible, wider configuration set than that of the PV231. Also, designed with all aspects of the drilling function in mind.
The 53 ft single pass tower is specifically designed for gold mines in the western USA, and we improved the drilling cycle, by eliminating rod changes. Increased penetration rates by pairing the new 435psi compressor with Epiroc's new COP M-Series line of hammers, adding productivity to uptime.
Our newly released 5th generation technology RCS (Rig Control System) is standard and fully autonomous conversion ready.
Check out this recent story on two different autonomous mine conversions with Pit Vipers in Mexico and Australia.
---
Super20 for Summer 2020 our super pick in Construction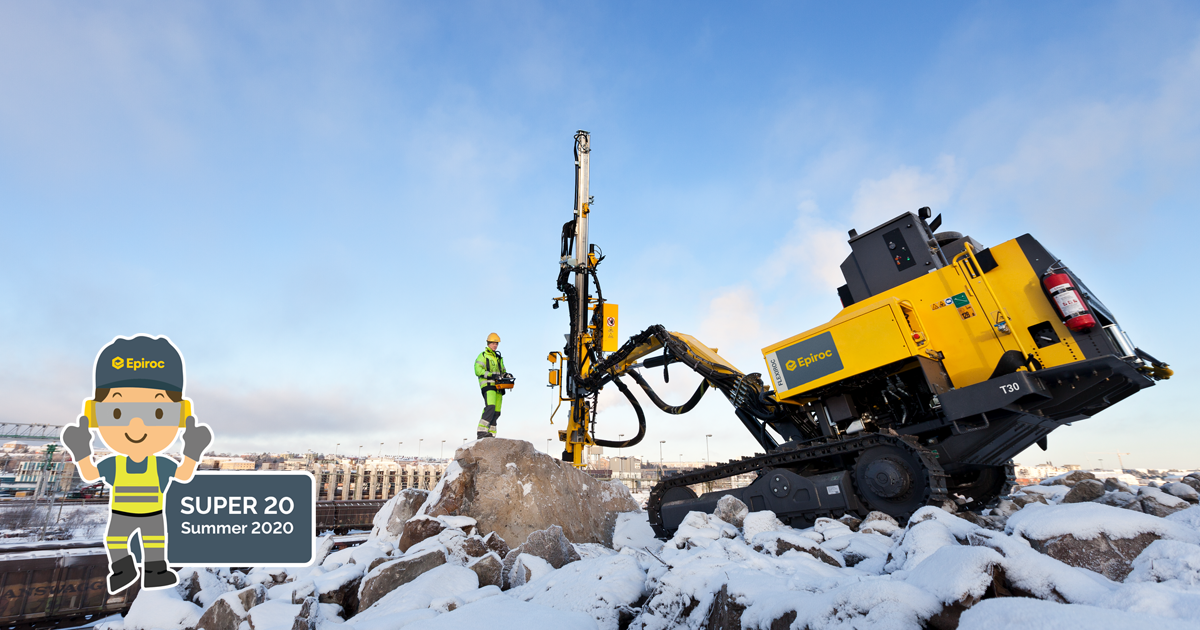 🌠 FlexiROC T30R
Versatile, productive, and safe this radio remote controlled automation ready rig can work in different applications with different edition options in both construction and surface mining, in civil engineering applications,
Stocked with safety features, anti-jamming, drill bit flushing safety system, FPCI (Feed Pressure Control Impact), and collaring settings.
The T30 R is so productive it occupies its own niche of ultra modern, automation forward drills that can do so many things it's difficult to do the machine justice describing it, so we just call it the modern marvel for highway, tunnel drilling, road construction, pipeline, and quarry.
With standard auto feed alignment and 9 optimized presets for various bit sizes and rock conditions, using a top hammer drilling method, 4 separate drill strings, 2 Rock Drill options , it can reach a maximum hole depth of RAS 24 feet, and RHS 48 feet, 1.75-3.5 in hole diameter. The FlexiROC T30R is also fuel efficient.
Options include Silencer kit with noise encapsulation, reducing noise by up to 10 dB, and also reducing dust levels on the job site.
---
Super20 for Summer 2020 our super pick in digitization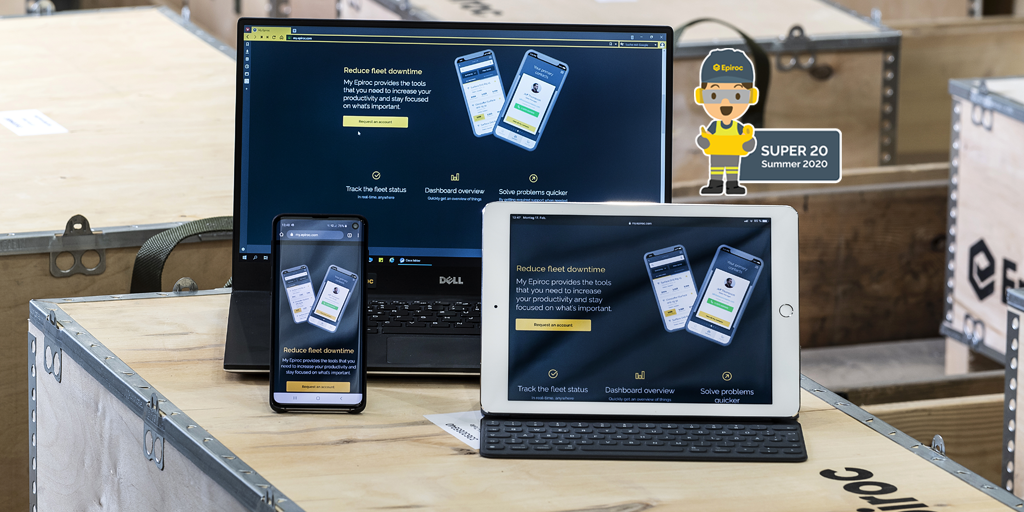 📲 My Epiroc
My Epiroc is Epiroc's latest service technology to bridge the divide between uptime and advancing business productivity. Using this mobile or desktop app, it is possible to manage many dimensions of one's operation and business simultaneously.
You can track everything.
Your fleet, tool locations, get insight into your service needs, track orders, and support requests.
Track tool status with HATCON, check fleet machine warranties, edit multiple work shift records, and analyze your fleet's uptime through a single application. You can access the app anywhere.
From your car, the office, out in the field, and even when and where data connectivity is limited.
You can act anytime. Feel confident about your business decisions when they are based on data and observation. Be able to read and keep up with your colleague's notes, and smart reports coming directly from your machines and equipment, regardless of where you are.
This role based system for multilevel teams, from buyers, to operators, to fleet managers; and for Epiroc and non Epiroc equipment alike (the system is machine agnostic), all within a unified automated fleet system.
By downloading the mobile app and joining the data community, you can open the functionality of your mine, construction, or demolition operation, quarrying, or surface aggregate operation remotely from your mobile phone, and manage your business productivity simultaneously.
Welcome to the future of heavy industry automation, made present.
To learn more about automation trends in mining and construction, read our previous blog about 12 frequently asked questions about automation.
---
Super20 for Summer 2020 our super pick in Rotary Blasthole, Surface Mining, and Quarry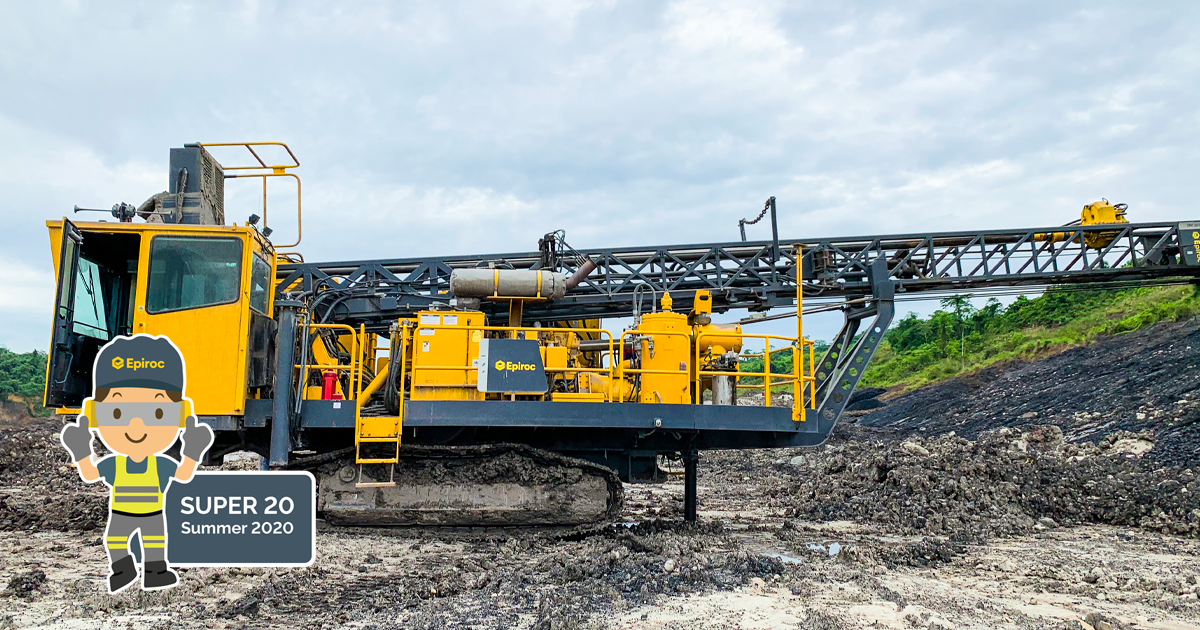 💥 DM30 II Single Pass
The DM 30 II SP is a compact, crawler mounted, hydraulic top-head drive rig that can achieve a clean hole depth of 36 ft in a single pass.
Designed to handle 4 to 6 ¼ in" drill pipe, with a pulldown of up to 15 tons, and delivers a clean hole diameter of 5 to 7 ⅞ " also optional, low or high pressure compressor for rotary and DTH applications, and Rig Control System Lite (RCS lite) which includes automatic system features, GPS Navigation, an enhanced data reporting.
Optional RCS Lite package includes many automated features like:
Real-time depth and penetration rates
Auto-level
Safety interlocks
High precision GPS
High value features for this rig include its size, quite compact so it is highly maneuverable in tight bench areas, and easy access service ports to reduce maintenance downtime.
---
Super20 for Summer 2020 our super pick in Exploration Drilling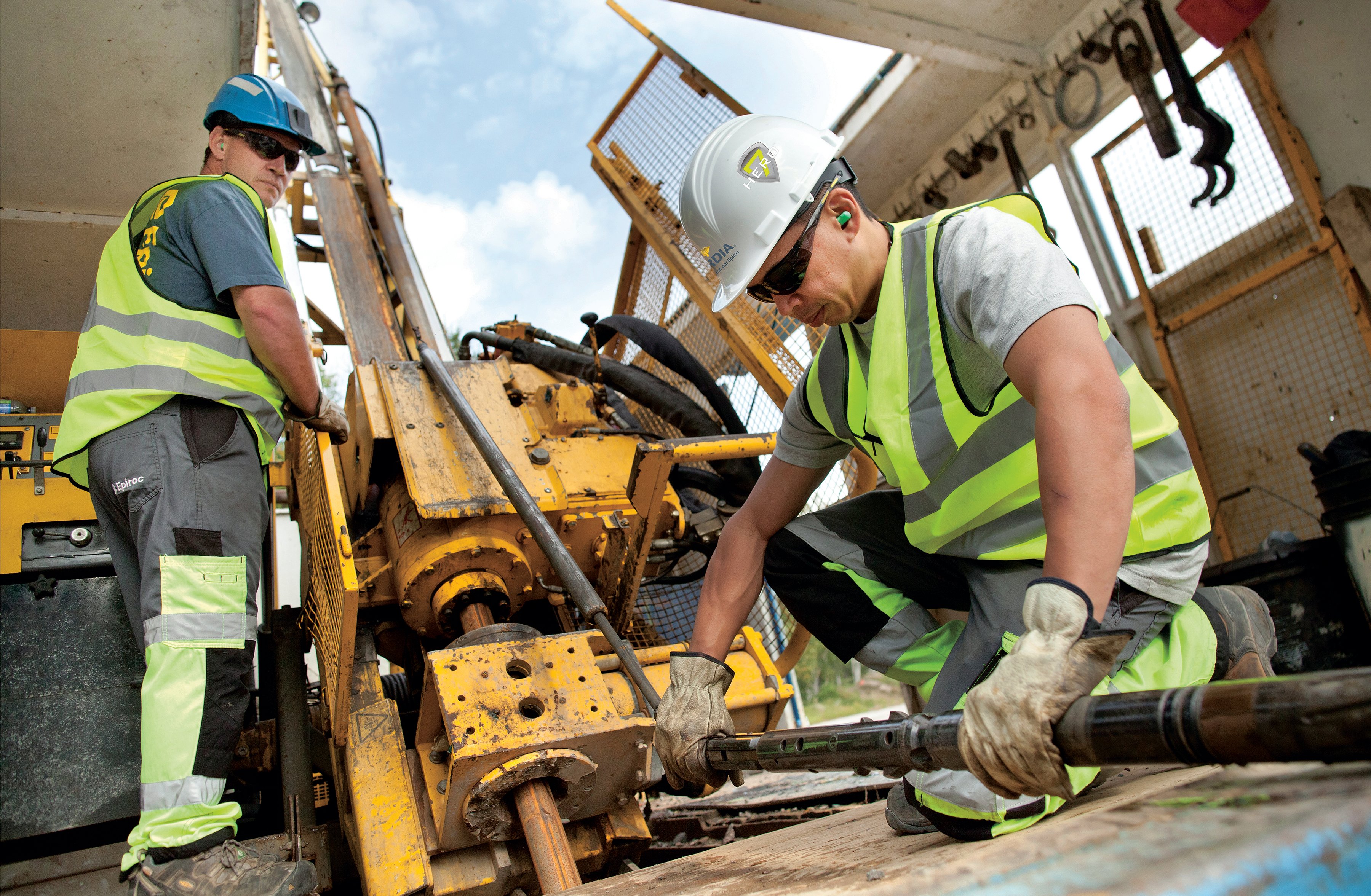 🦈Fordia Shark 8A + Legend Series
Our colleagues at Fordia have a stellar exploration drill bit, the Shark 8A core bit and the wider Legend Series are known for their unique resilience in core drilling in hard and broken rock formations. In particular, the type of rock found in Nevada's mining country.
The Shark 8A Legends core bit is one of the most successful core bits in the USA, since being released in 2000. The Shark 8A has notable use cases also in Mexico and Japan, and all over the world.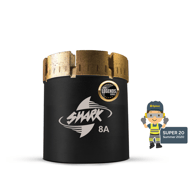 American customers appreciate that this matrix provides its best results in a typically hard and broken formation, and is ideal for ground between 5.5 and 7 on the Mohs hardness scale. To learn about the Mohs hardness scale, see this article.
Fordia's technical team can help select the best configuration to ensure that drillers and drilling companies get the most out of each bit with maximum penetration rate, yet efficient cooling.
To learn more about the Shark 8A and the legend series of exploration drills, visit Fordia's Legends product page.
---
Super20 for Summer 2020 our super pick in Parts and Service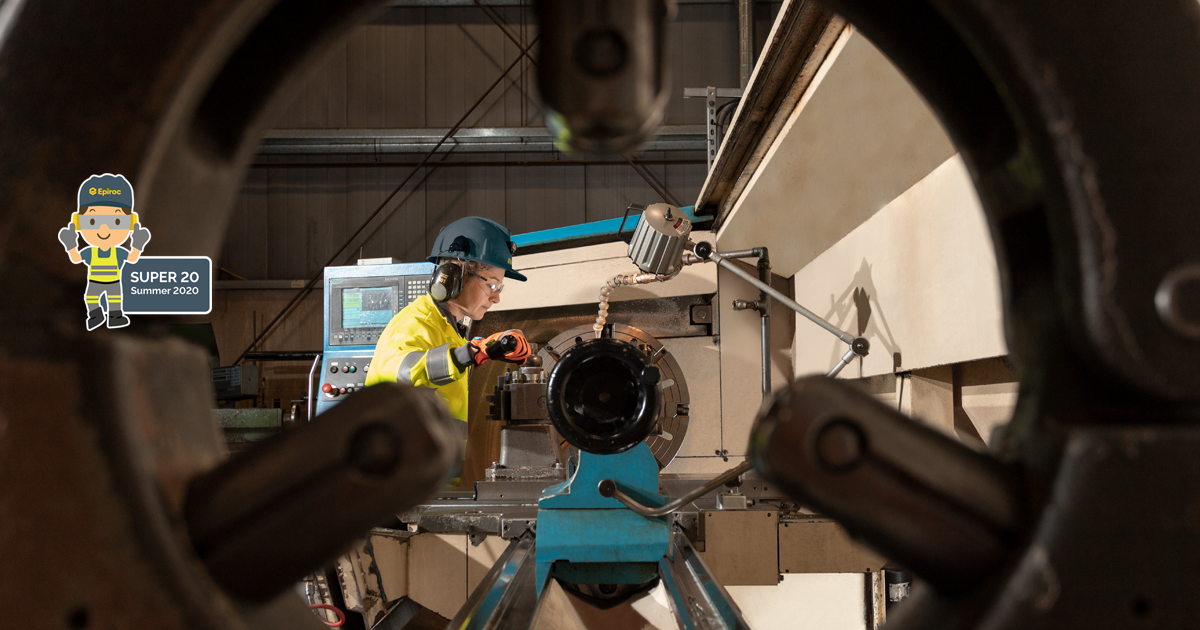 ⛓️Reman Re-manufacturing Solutions
Reman is the way to make all mid- to end-of-life equipment last longer and save money. Usable core recycling reduces waste for equipment housing that can be reused to keep machines operating longer, and to take full advantage of lowering the total cost of ownership.
'Reman' is an outright buy or issue of a credit for an OEM specification built part/tool, while a rebuild is nearly the same thing as a repair. The owner still owns the part, and pays for a service. Reman is different. For our Reman process, viable cores are purchased back from the customer.
So it does become like 'new' using documentation at each stage of the 15-step process, as that usable core has all wearable parts replaced to a beyond, new standard.
Our facility in Tucson Arizona has a layout designed to prevent dust and debris contamination on re-manufactured products with a 'clean' room, and a factory certified 15-step process that guarantees quality in the final product.
All OEM-installed reman components receive an extended warranty surpassing that of new, and get an equal to new unlimited work hour warranty for one year. We're that confident in the quality of our re-manufacturing.
To reach out about your fleet's usable core eligibility for our global standard 'reman' solution,
Super20 for Summer 2020 our super pick in Underground Mining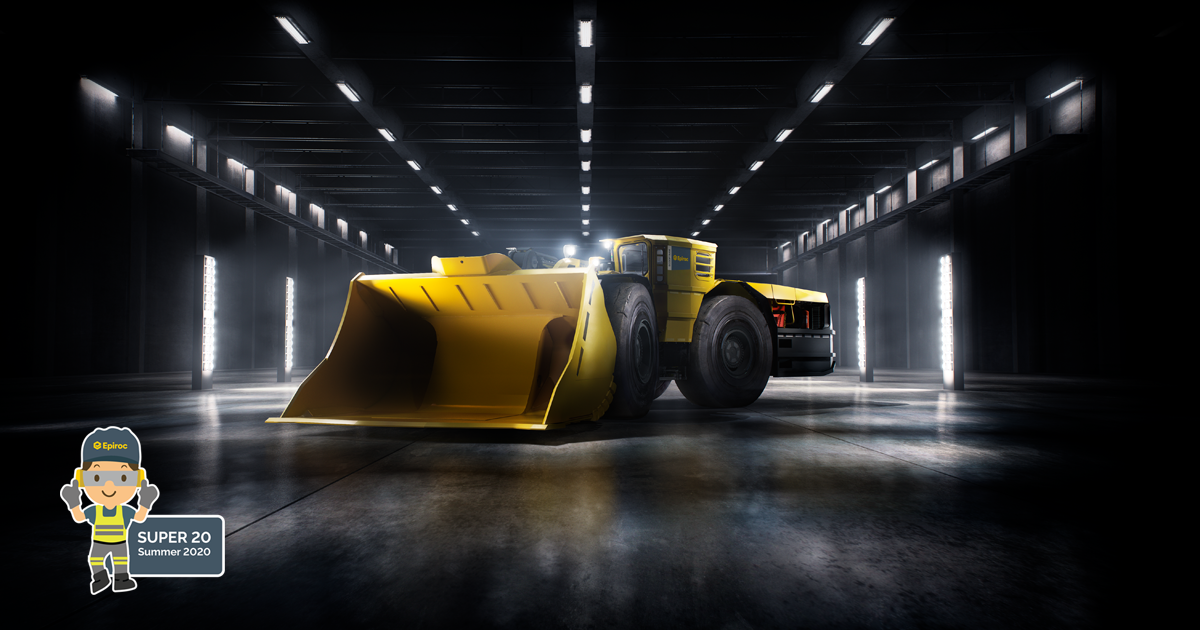 🔋 Scooptram ST14 Battery
The future is electric so we've included the Epiroc Scooptram ST14 Battery in our Super20 Summer 2020 picks. This powerful, productive loader has zero emissions, has a 14 ton load capacity, is easy to maintain, and is operator friendly. The ST14 Battery lowers energy consumption by 80% with reduced need for ventilation and cooling.
Our electric drive train performs better than a diesel model and saves energy due to its patented drive train that conserves and reuses more heat energy that would ordinarily be emitted as toxic fumes and heat, greatly reducing the safety and air quality of the mine environment. With electric energy, the safety of the mine environment is transformed. The future of mines is electric. Read our recent story about the industry's electric shift.
Super20 for Summer 2020 our super pick in Underground Mining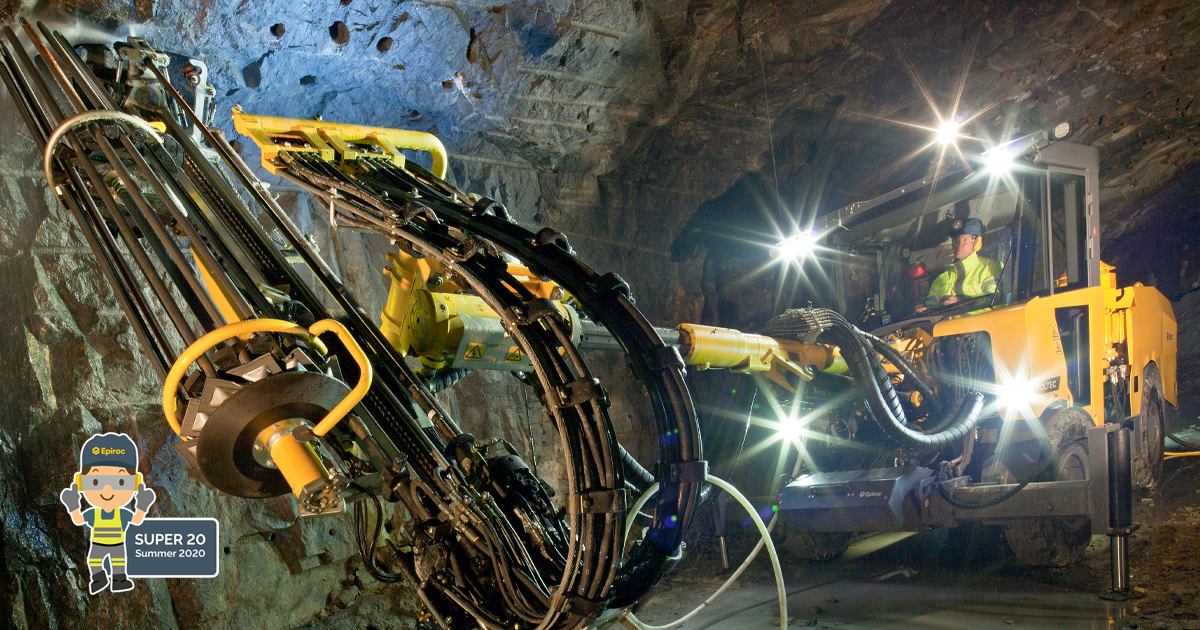 🔩 Boltec S + Boltec M
The Boltec S and M are high quality rock reinforcement rigs that use the latest technology to advance underground mining with safety features to protect miners.
Install bolts and mesh from a safe distance and reduce manual handling and the time spent drilling with more automation.
The bolting rig features a Rig Control System (RCS) for positioning, drilling and bolting, automatic resin injection, bolt tool retraction and indexing, automatic cement system, bolt plan navigation, and lift and tilt cabin, lessened water usage, while reducing noise exposure for the operator. The open service architecture makes maintenance easy. The Operator area is comfortable and spacious and features a swinging seat position for both driving and bolting.
Boltec S for smaller underground mining benches and drive dimensions to install bolts of up to 7.8 feet, and the Boltec M for larger areas to install bolts of 4.9 to 11.5 ft, as well as for civil engineering applications.
Super20 for Summer 2020 our super pick in Underground Mining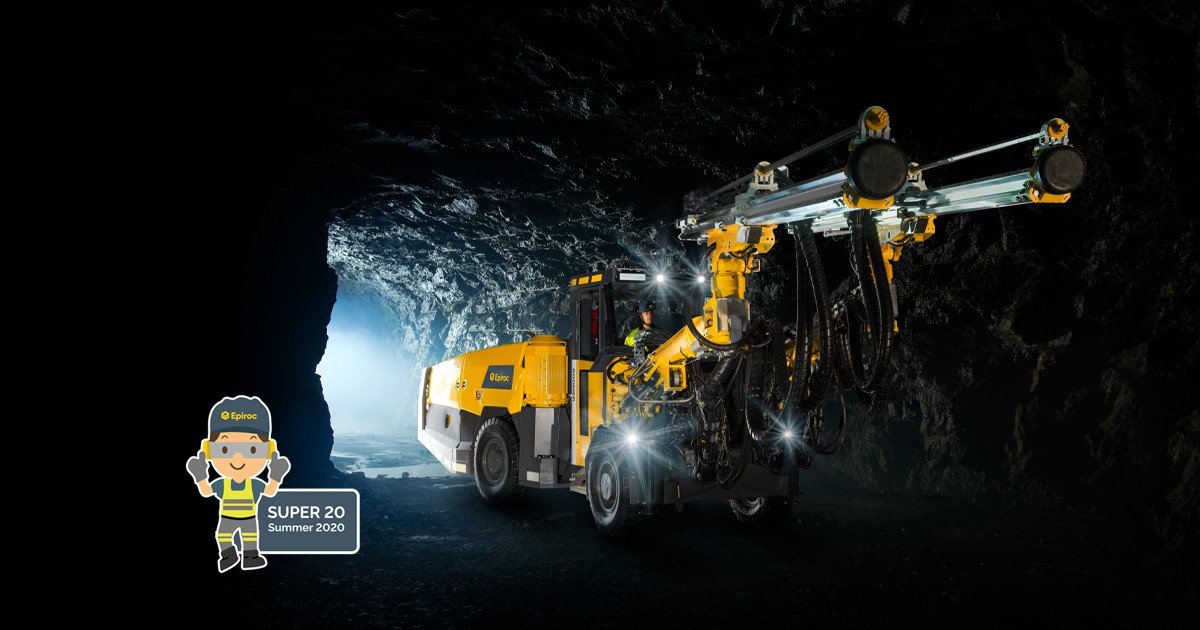 🔱Boomer S2 + Boomer M2
The Boomer S2 and Boomer M2 are great solutions for medium size drifts and tunnels. The versatility in application stands out also, as these Boomers can be utilized in both mining and civil engineering applications.
With intelligent sensor systems, auto collaring settings, durable booms, and Rig Control System, productivity is increased by eliminating time wasting, manual steps for plodding and drilling in manually operated machines, and embracing the precision of automated drilling patterns.
The smaller range of Boomer face drilling rigs proves that tough things come in small packages next generation rock drills, stronger booms, and feeds with less hoses, a stronger chassis and cleaner burning diesel engines.
This rig design helps operators increase productivity with improved visibility and maneuverability, and Epiroc offers additional automation options combined with the proprietary Rig Control System that take it to the next level.
The new generation of COP rock drills provide, drill steel economy, up to 30% less tool consumption, reduced vibrations and up to 15% faster penetration rates than its closest competitor. It boasts a service interval of 1000 impact hours for more uptime and reduced operating costs.
Super20 for Summer 2020 our super pick in Quarry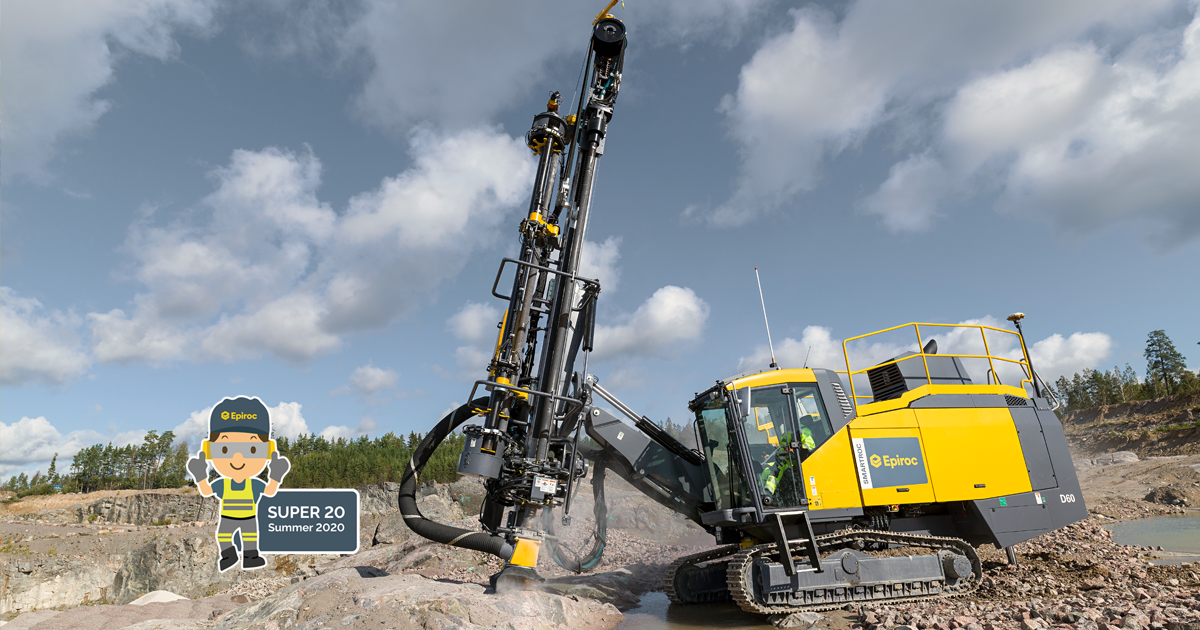 🎇SmartROC D60
SmartROC D60 Quarry Edition is an intelligent rig with automated drilling and rod handling, including Auto Feed Fold option, which allows the operator to fold the feed for tramming or positioning in a single action.
Using BenchREMOTE the operator can set up the drill to do its functions remotely, using automated drill patterns. Take operators out of the quarry to increase safety and productivity, while drilling precise, clean holes in 3 different rod settings. SmartROC D60 offers consistent and precise hole navigation.
The advanced Rig Control System is displayed on a touch screen inside the comfortable, air-conditioned FOPS and ROPS-certified cabin. From drilling parameters to real-time Measure While Drilling data (MWD) operating SmartROC D60 is quarrying for the future.
Super20 for Summer 2020 our super pick in Quarry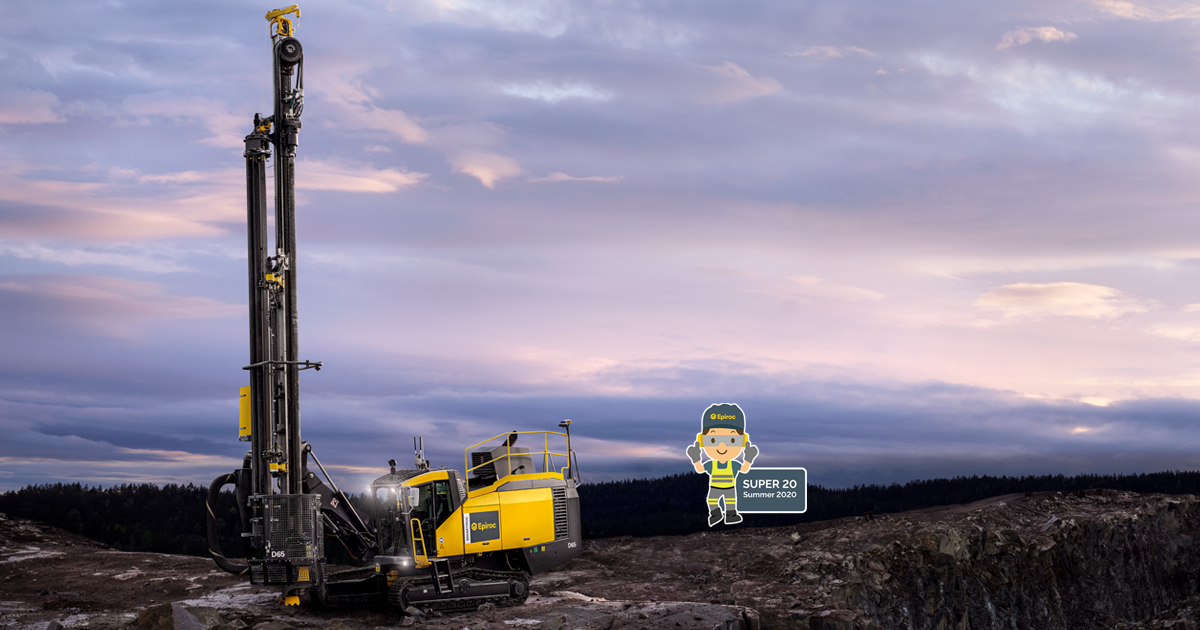 ⛑️SmartROC D65
The SmartROC D65 is Super: super smart, super strong, and Epiroc's newest evolution for mining application. Packed with features to enable full automation in the surface mining environment.
Using BenchREMOTE, this smart rig can be operated from a safe distance from the open pit for increased safety and productivity.
The operator can use single-touch Auto Feed Fold for tramming and to re-position for drilling with multiple remote rigs in their own respective drill plans. Machine can be ordered with 4 different feed beam options with a depth capacity of up to 183 ft, and up to a 9" hole diameter, and automated rod handling for down the hole drilling. With intelligent control of the compressor and engine rpm, the operator will experience an improved blasting process and fragmentation rate.
With a 15" responsive touchscreen, the operator can access all the data points they need to increase their uptime, including drilling patterns, equipment diagnostics, and have the ability to measure in real time while drilling.
The fuel efficient SmartROC uses 20% less hydraulic oil than in the previous model, with advanced load sense hydraulics, efficient control systems, fewer hoses and fittings for easier, faster maintenance, and safe operation. SmartROC D65 is a rock solid machine, as capable as it is smart, and designed to meet the urgent demands of surface mining operations, drillers, and drilling companies alike.
Super20 for Summer 2020 our super pick in Quarry and Construction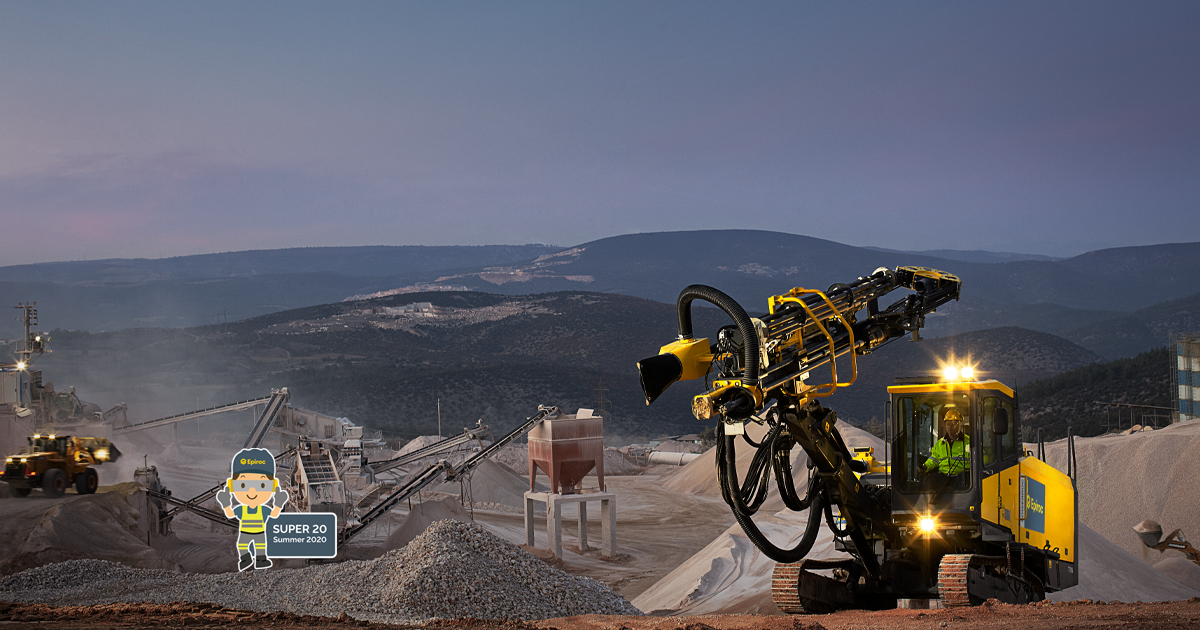 ⛰️PowerROC T35
The PowerROC T35 is an essential rig for development, quarry, and construction applications. This power forward drill offers simple hydraulic controls and operator-friendly, straight forward positioning for top hammer drilling. Use the COP Series Drill and Logic System for fast and consistent contact with the rock. The PowerROC T35 offers excellent fuel efficiency and uptime for flexible drill positioning.
Super20 for Summer 2020 our super pick in Environment Well Drilling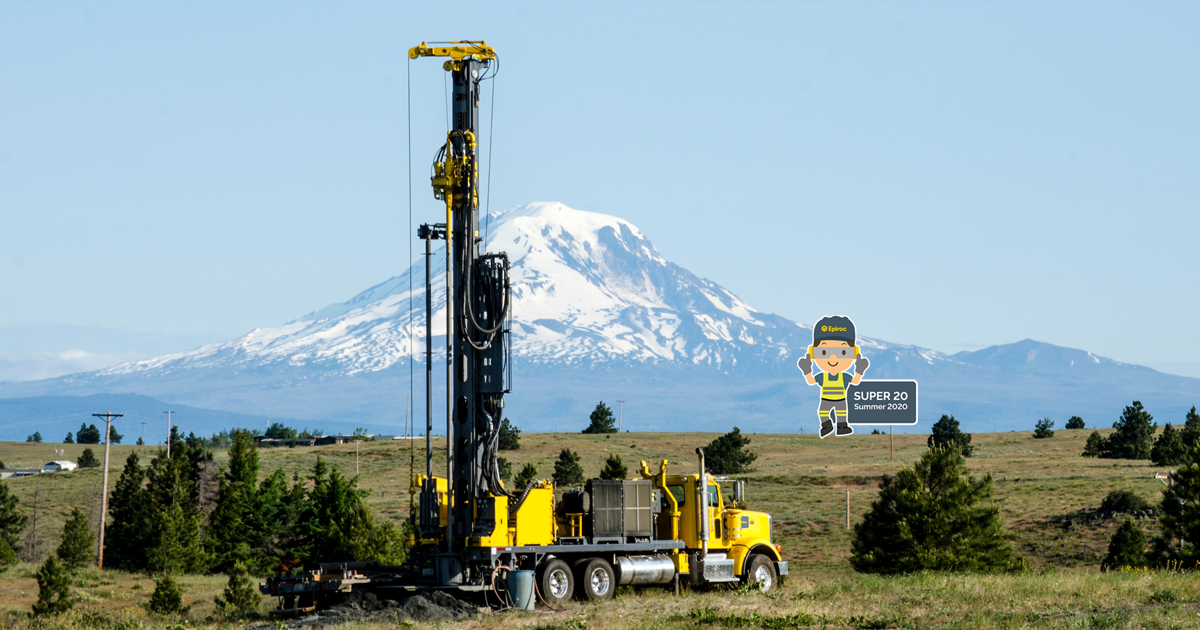 💠 Diamondback DB40-80
The ever evolving drilling market requires a versatile machine for the water well market. The DB40/DB80 offers innovative tubular tower design, lower weight optimization, and easy to use controls. The modular design of the Diamondback rig offers rotary air, mud, or DTH drilling, making configuration options configuration options highly versatile for a driller's needs on the job site. Read about the DB series functionality in one of our customer success stories.
Using the latest weight optimization tools, Epiroc reduced the weight while still maintaining the strength drillers demand — creating a rugged design that can handle even the toughest challenges for residential and commercial well drilling.
The Diamondback has a sliding rotary head that will slide over to pick up rods from the carousel or slides out of the way to the opposite side of the tower to allow the winch to swing in large diameter casing.
The tower design allows for a more open area around the drill table and provides maximum working room around the drill string. The customizable table is ideal for quickly changing the table opening diameter.
The Diamondback has two table options that have an outer bolt-on adapter with 24" or 17" opening. Then each have an inner bushing that can be unbolted for a 10-3/4" opening to be used. The bolt-on centralizer bushing and outer bushing adapter adapt the table on the spot for a wide range of through-the-table options.
Super20 for Summer 2020 our super pick in Oil and Gas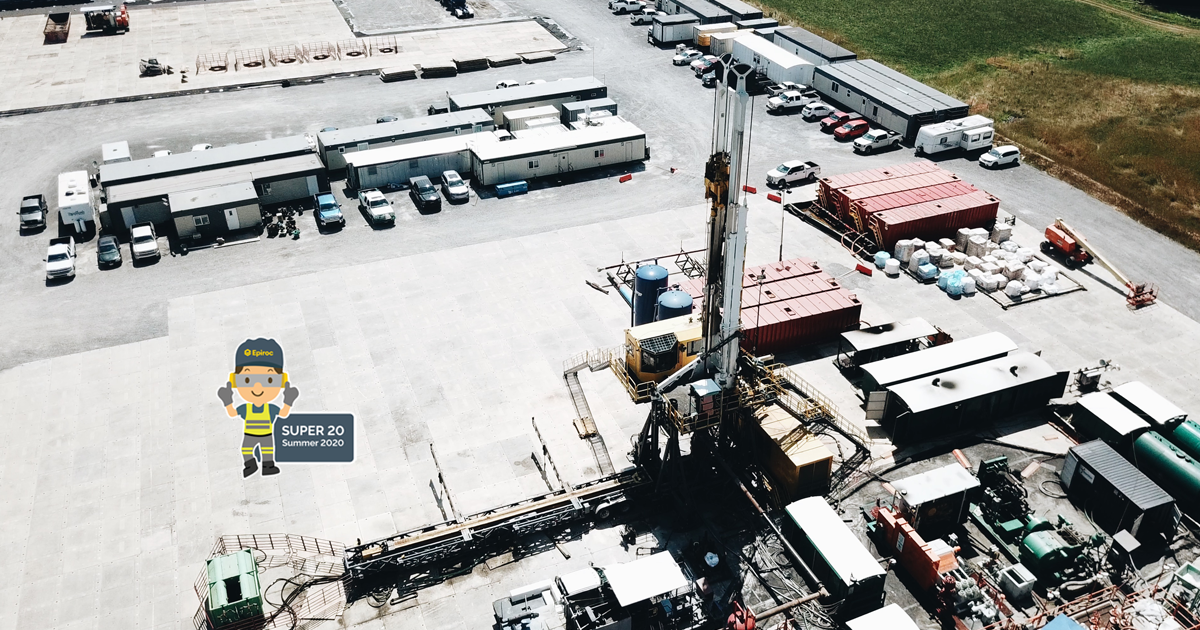 🕹️ DH350
The DH350 land rig features an advanced slingshot substructure, powerful standalone HPU, crownless telescopic mast, and a cutting-edge pipe handling system. Collectively, the optimized DH350 configuration provides a step-change in efficiency through crane-free rig up and surpasses the mobility of any Tier-1 conventional rig on the market today.
The new single-piece substructure is a slingshot-style unit with integrated hydraulics to provide the fewest number of connections ever required for full rig up. The API monogrammed substructure offers a 27-1/2" split master bushing with a maximum table opening of 44", which easily accommodates large diameter tools and complex bottom hole assemblies.
The powerful Epiroc-designed 1,200 HP diesel-hydraulic power unit provides unparalleled distribution of hydraulic power for all drilling functions, while enabling an unprecedented reduction in fuel consumption to easily get through the day. The stand-alone HPU minimizes cycle time between wells by eliminating the necessity of high voltage power from ancillary prime movers and remains an integral component atop the DH350 substructure when walking the rig between wellheads.
The crownless telescopic mast featuring 54" Nylatron sheaves provides 350,000 lb. of pullback, 50,000 lb. of pulldown force through the robust tip-out hydraulic top drive. The twin spur gear powerhead offers variable speed electric over hydraulic control with a maximum 30,000 ft-lb of rotary torque, and the ability to handle single joints of Range III drill collars up to 8" inches in diameter. The top drive delivers substantial improvements to operator safety and offers the highest quality pipe handling when coupled with the integrated iron roughneck and remote operated catwalk.
The optimized load configuration and integrated hydraulics allow crane-free rig up in under 12 hours with as few as six (6) rig loads between drilling locations, allowing operators to minimize cycle time and improve long-term well economics. The minimized load configuration is accomplished through a combination of streamlined skid-mounted components and single-piece assemblies transported via purpose-built trailer or integrated subassembly axle groups.
Super20 for Summer 2020 our super pick in Exploration Drilling | Underground Mining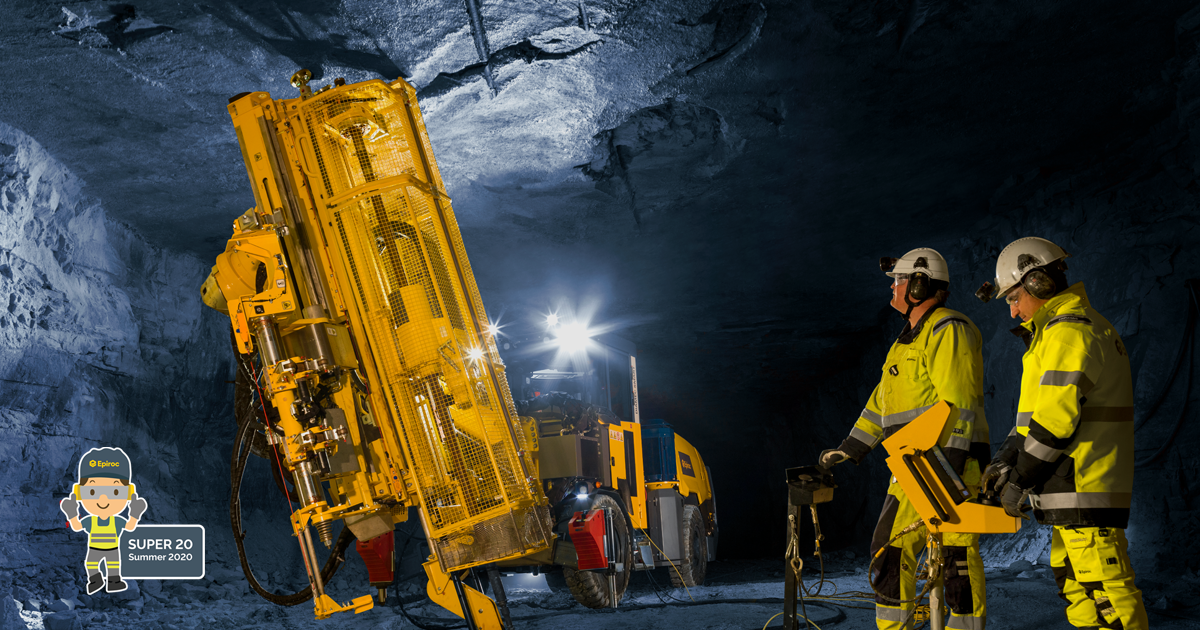 💎Diamec Series 6M
The Diamec Smart 6M offers unparalleled underground core drilling, safety, and productivity. The roughest and most hazardous tasks are made achievable with automation in the patented Rig Control System allowing the driller to penetrate the hardest diamond core, using autonomous drill patterns.
The Rig's two-hand controller system and innovative rod handling system allows for ergonomic heavy lifting, and contains barriers that prevent contact with any rotating parts, preventing injury to operators. The modular design of the drilling position chassis can be positioned in any configuration needed for the drilling operation. The Diamec Smart 6 is the rig to perform challenging underground drill core sampling.
Super20 for Summer 2020 our super pick in Exploration Drilling | Underground Mining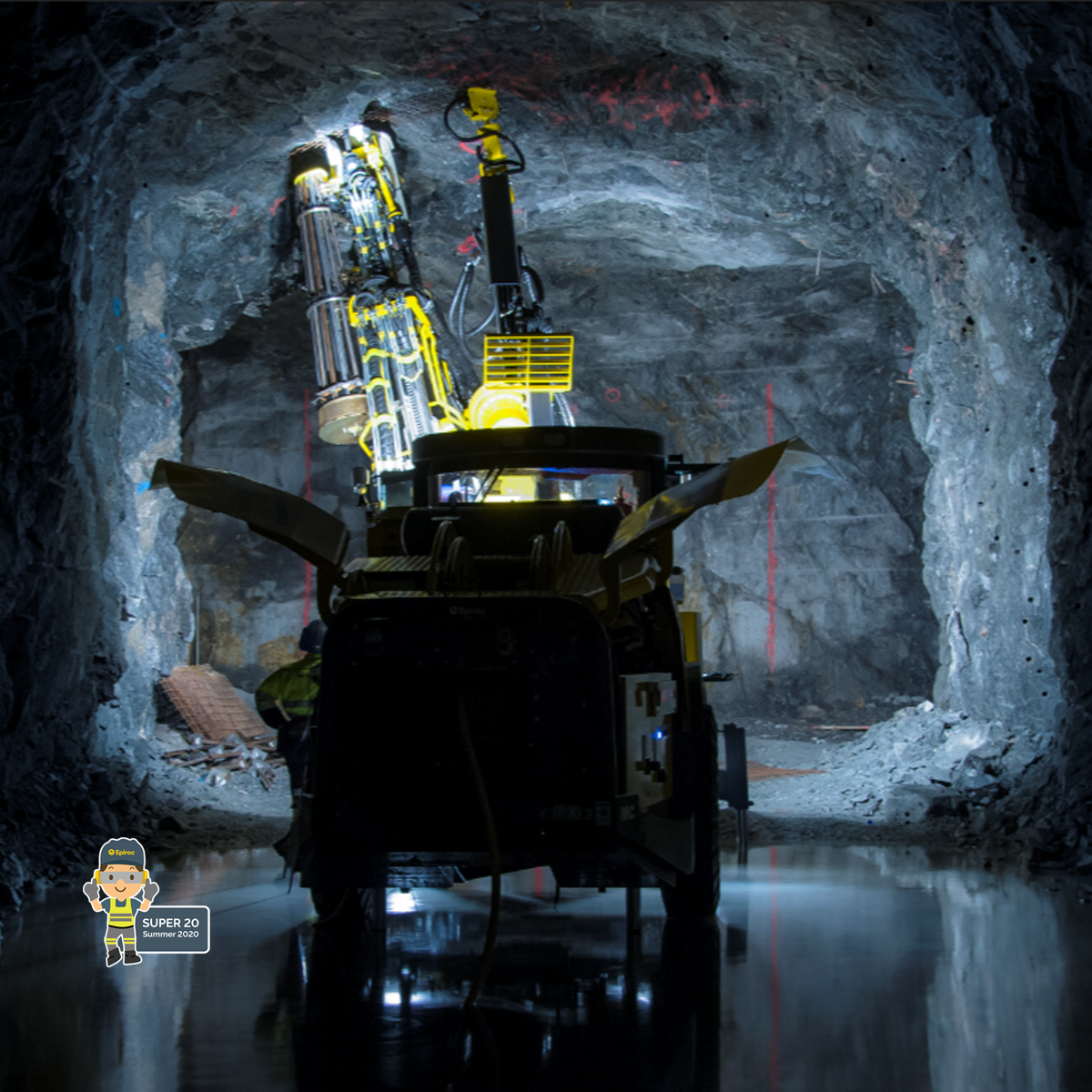 💦🔩 Hydrabolt
The New Concept Mining Hydrabolt is a valuable tool to safeguard your mining or civil tunneling operation. This product is the only inflatable rock bolt in the industry that retains inflation water under pressure. This hydraulically expandable rockbolt has superior bond strength for tensile loading applications.
The hollow, tubular Hydrabolt is injected with high pressure water upon installation which then expands to adapt to the shape of a pre-drilled support hole. This unique feature is made possible by the patented non-return valve integrated into the head of the Hydrabolt.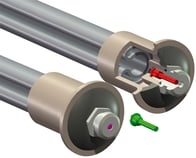 The Hydrabolt incorporates a check valve to prevent the fluid from being released once the inflating nozzle is removed. This system provides a better bond as the inflated tube adapts to the shape, size and irregularities of the hole and distributes the clamping force evenly throughout the length of the hole. As the installed Hydrabolt is sealed, the internal corrosion is self-inhibiting.
Retaining the inflation water under pressure gives improved internal corrosion life. The Hydrabolt requires less length to fully anchor, so that it can give an improved factor of safety in supporting excavations. Opt for various protection options for above and beyond protection from corrosion.
The Hydrabolt installs as quickly as other inflatable bolts and has a visual indication on every bolt showing if it has been correctly inflated. The Hydrabolt is a safe, reliable inflatable bolt that gives you peace of mind that your excavation is correctly supported.
To learn more about Hydrabolt for underground mining support, and New Concept Mining products, click here.
---
That's all for Super 20! To go back to the top: 🔝💨
---
Stay tuned for more updates to the Super 20 Picks for Summer 2020! Until then, feel free to follow us, and take a look at the other content for #epirocs20s2020 we have posted on..
---