The new Epiroc products introduced at Conexpo-Con/Agg 2020 are designed to increase productivity and safety across operations – based on learning from the unique challenges of equipment operators in the field. Drilling companies', construction, and demolition customers' operations are the best source for insight. Epiroc design engineers go out into the field and learn firsthand what customers need in the next model of a rotary drill, and dig deep into the challenges of hole drilling and rock drilling, and that experience is the core of the engineering process.
Our showcase of new products and services
Conexpo-Con/Agg is one of the largest construction shows in North America and worldwide. Despite the looming signs of travel bans and social distancing measures. Conexpo 2020 hosted 130,000 visitors and 2300 exhibitors on 2.7 million sq. ft of exhibit space, With the limited travel that took place, we want to take the opportunity to go over new products and services featured in the Epiroc booth at Conexpo.
Conexpo goes beyond just newest and best in construction equipment. Major technology trends in mining and construction have emerged recently and were on display at Conexpo-Con/Agg, including Epiroc's new 6th Sense approach to connectivity, business data analysis, telematics, and automation that offers unparalleled opportunities for operational excellence.
---
Newest and best for 2020
The new DM 30 II Single Pass Blasthole Rig
The new DM 30 II Single Pass Rig is a best in class solution for its size. It's really compact so you can get into tighter areas. But don't let its size fool you, it's got a single pass, long range tower pass at 36 feet for quarry applications.
All of the service ports are designed to be easy to get to, as downtime is partly determined by how inconvenient panels can be to access for maintenance. Typically, the underside of the truck and other places that are not easy to get to, making repairs take longer and cost you more – but not with the DM 30 II Single Pass.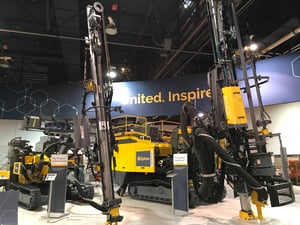 SmartROC D60 with RCS controls
The SmartROC D60 is the next-in-class drilling rig for construction and crushed stone aggregates. It has enhanced comfort options for the operator such as the 15" screen display, RCS controls in cabin, and single hole automation drive capability, drilling single holes on its own. The service station has been re-engineered with less stuff– less pipes and fittings, which reduce the fuel and hydraulic fluid usage in the machine, saving fuel and preventing excess emissions and fumes. The new model is fully automatic, easier to use, and costs less to operate.
The new FlexiROC T30
The FlexiROC T30 is a new fleet machine for pioneering drilling in challenging terrain, where other machines might fall over or just drill too shallow. The T30 FlexiROC is best in class for surface mining and can be operated remotely to keep operators safe during the hardest stages of pre-drilling.
The PowerROC D60
The PowerROC D60 is a large model solution for down-the-hole drilling for application in open-pit mines and large quarries – with full hydraulic rotation for all kinds of rock conditions and stability systems that make it safer for drilling and tramming. The aluminum feed beam bores straight holes every time, between 4.31 and 7 inches, and has a versatile set of options for rock drill and hammer sizes at 4.5 and 6 inches.
The SC25XHE Rock Drill
The new rock drill upgrades in Parts & Services are focused around durability. Epiroc's SC25XHE (replacing the SC2560) with an upgrade kit for the predecessor model, has a new lease on life ranging from 600 to 800 service interval hours. You can connect to the mobile smartphone ready application MyEpiroc to load, track, and optimize your whole fleet's machine performance remotely, and new TCO full service agreements and warranties help you to extend the life value of each drill and tool using Epiroc factory trained staff expertise and professional service that is on-call when you need them.
New Surface Powerbit will add performance and extended bit life
We have made serious upgrades to our already high quality surface power bits for construction and aggregate applications. We have incorporated a stronger bit body material with a newly patented steel carbide material with revised side flushing holes for faster cutting removal. Our standard spherical, and newly designed Trubbnos carbides are placed in various bit designs and sizes needed to meet any application challenge.
Our Powerbit products are designed to extend the bit life, by utilizing engineered features focused for production drilling, including added durability to lower your cost-per-foot. The newest Powerbit is designed to transfer impact energy into the rock with additional hole cleaning capability which will lower your costs at an estimated 15-30% off your total cost of drilling.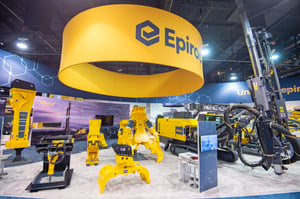 The CB 7500 Concrete Buster, Drum cutters, and Hydraulic Breakers
There are all new value propositions for Epiroc hydraulic attachments, including the CB7500 Concrete Buster – Epiroc's largest and most powerful yet. The new dual pin Concrete Buster CB7500 has full hydraulic rotation capability. Part of our silent deconstruction tools are CB models, and 6 models of Combicutter with speed valve and versatile jaw configurations: pulverizing, scrap, and universal, that change out systems for demolition, quarry, and construction industry applications.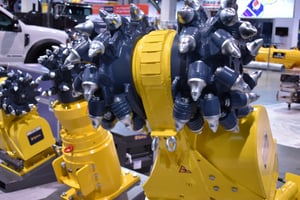 Epiroc ERC drum cutter attachments for excavators
The drum cutter line has a variety of transverse and longitudinal attachments for materials removal and demolition. The new tool premium attachments lines come with a 3 year warranty, Built-in water pumps for silica dust protection and suppression systems keep the air cleaner, keep operators safer, and all the sight-lines freed up. The new ERC650 fits on 200 series class excavators designed for cutting, trenching, and mining with a hydraulic-enabled rotation unit, using high torque and low rpm rotation engineering. This drum cutter can handle the hardest rock and mineral materials found in the quarry, mine, or field trench.
HATCON for Smart Tooling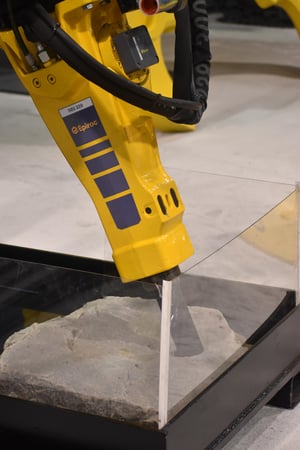 Our new service application technology HATCON is a new safety and productivity automation tool which uses IoT (Internet of Things) microchip system to track and monitor hydraulic attachments' function in the field. Smart tooling features in HATCON allow to reduce downtime and enhance longer service cycles and recovery, including faster steel change-out and notifications when a tool needs a new part.
The mobile-ready app evaluates productivity of your tool and monitors the GPS location, wear, operating status, downtime, and service needs for a whole fleet's attachment tools so work can continue and be managed seamlessly from a distance using smart data systems.
---
The shift to automation and services scheduling products that have market leaders increasing their efficiency
Introducing 6th Sense solutions
6th Sense is a group of Epiroc's automation and digital solutions to help customers make their operations smarter, safer, and more seamless. You'll find 6th sense enabled features in the whole fleet. The new SmartROC D60 is packed with 6th Sense related features such as auto rod adding, auto drilling, auto feed fold, the Hole Navigation System as well as BenchREMOTE and Radio Remote Control enabling remote control. The DM 30 II Single Pass with RCS Lite rig control system has 6th sense related functions ranging from auto level, to wireless transfer of drill plans, and productivity log files to Hole Navigation System. HATCON is another example of a 6th Sense approach, connecting our hydraulic breakers and drum cutters and giving the customer the ability to track Hydraulic attachment tools' location and operating hours.
---
Trends to watch
Warranty products with built-in service components to enhance operational efficiency
The new TCO Supervisory Agreement
Our new Total Cost of Ownership (TCO) service agreement and warranty includes full service schedule maintenance and ready on-site technicians for your Epiroc fleet machines, from minor to major repairs and replacements built-in and set up to respond when you need repair service, to order parts, or tooling changed out.
Recently, Epiroc began to address both the mining and construction markets, and to focus on the customer experience-- by reducing the total cost of Epiroc machine ownership for customers, by helping them to reshape their businesses for operational loss prevention. Capital expenditure to upgrade a fleet may be complicated, TCO service is simple: TCO-serviced tools have support that is easy to call upon.
My Epiroc
Our newest customer experience platform system is available as an app on mobile devices and on the web. It is a role-based system featuring multilevel teams, from buyer, to operator, to fleet manager, and for connectivity in Epiroc and non-Epiroc equipment alike within an automated fleet system. This is a tool that all customers can use to manage their relationship with Epiroc.
My Epiroc has many uses. It can replace calls to customer service to onboard new customers; replying to messages is convenient and reduces the need for back-and-forth across multiple platforms. Reports can also be generated for a location's sales operations and productivity management. Notifications and audience view permissions can be managed, so that many roles can use the platform at the same time without overlap.
Shift-to-shift reporting makes it easy for operators and managers to track the entire service history of machines (with text and photo features built in), to order replacement parts, to see what spare parts are available, and to track each equipment's technical manual and warranty timeline. Regardless of whether a customer enables all the IoT functionality, My Epiroc will make any operation more transparent, and records more organized and actionable.
The Total Drilling Cost approach
The Total Drilling Cost approach helps reduce downtime and increase overall productivity. By considering the impact of penetration rate, the life of each consumable, and the full cost of putting holes in the ground, you can estimate a simple, total cost.
For the drill string, it means using the highest caliber materials possible so that the life of each bit can be maximized, while downtime disruptions can be minimized. From a drill bit perspective, the goal is to find the best balance of penetration rate to bit life.
Each hour a drill operates can be measured against the total footage. The goal of measuring the total cost of drilling is to increase footage per drilling hour. By factoring in time, mining productivity can be predicted in advance, and scheduling and other business processes and costs can be looked at more closely. Business managers can assess their overall productivity into data analysis with the total drilling cost approach.
Work halts and downtime produce larger losses than any capital expenditure. When equipment is worn and must be retooled and repaired, or the steel is just made too cheaply and doesn't produce quality work hours, drilling companies lose at operational excellence. The return on investment philosophy around choosing quality is more expensive in the short term. But when customers are investing into premium Epiroc smart tools, using higher quality materials will save on operational costs in the long term.
Tool smart and save time to reach operational excellence
Want to know more about products featured at ConExpo 2020?
Want to watch our videos live from ConExpo 2020?
Check out our 5 Episode playlist on YouTube: