Working in underground mining industry for over two decades, I've observed that the move away from diesel-powered equipment to electric-powered equipment provides not just cost savings on fuel, but actually improves the safety of operators and mine personnel.
By addressing these three key safety factors: air quality, noise level, and heat within the work environment, electrics have become a solution that underground mining operations should thoughtfully consider.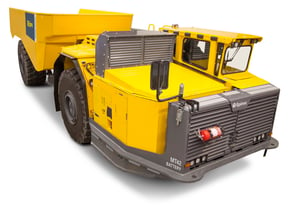 Recently, my colleague Franck Boudrealt, Global Product Manager for Electrification at Epiroc's Underground business, published an article in Mining Engineering Magazine, where he talked about the wins and the challenges of fleet electrification.
The #1 takeaway is that mine operators do not have to give up any functionality — on the contrary, you can move your business into a more sustainable and healthy future, while still gaining functionality, transitioning to electric.
Here are the 8 key benefits of shifting to battery powered operations:
1. Performance. The new battery electric vehicles offer full torque at zero RPM, unlike their diesel counterparts which consume fuel constantly. The most common misconception about alternative fueled electric machinery is that it is not as effective as diesel combustion. Our drive train technology offers unmatched productivity uptime gains for our customers — like battery regeneration when travelling, which reduces the native energy consumption within the vehicle and increases on-ramp haulage productivity by almost 10%.
2. Improved work environment. The electric hydraulic functions are separated in the engineering block from traction, providing on-demand power without dirty air emissions, excessive heat, or distracting and damaging noise that diesel-run machines emit.
3. Reduced ventilation needs. The new electrics mitigate the risk of fire and overheating, which is a common concern in diesel hydraulic machines within enclosed environments. Adding ventilation to underground sites is also a common infrastructure cost concern when using diesel engines.
4. Lower cooling requirements. Diesel engines generate a lot of heat and require a lot of cooling capacity. Electric-powered equipment is more efficient since electric vehicles produce less wasted energy (heat) and deliver more productive work.
5. More efficient energy consumption. Electrics consume less energy overall and more of that energy becomes measurable, productive work than diesel-run engines. Epiroc engineered regeneration efficiently recycles energy used within the drive train back into the battery so less energy is needed overall in electric operation.
6. Decreased risk of fire associated with diesel and heat. Safety was the first concern when we moved to electric battery operation engineering. All of the risks associated with combustion diesel engines are addressed in our electric models, which don't have complex hydraulic systems with ignitable fuel, near where heat levels must be closely monitored to prevent fires.
7. Efficient operation at high altitudes. Thinner air forces diesel-run combustion engines to consume even more energy and emit even more smoke, increasing downtime and production halts. Electrics run efficiently regardless of altitude.
8. Lower carbon dioxide and emissions. There is no comparison between diesel-run and electric on emissions of carbon and other pollutants. With future innovation in battery technology, emissions can be greatly reduced in the production cycles of all components.
The battery as a service offering makes the transition to electric operation even easier so that total cost of ownership (TCO) can be lowered and made sustainable for underground mining fleets struggling with issues that diesel and combustion models bring to their sites. It has an additional benefit--it helps our customers to redefine their costs on the balance sheet by moving batteries from being a capital expenditure, to an operations based cost, making the change, in a way, less expensive.
We are open to a dialogue, if you want to learn more about batteries as a service, new models of electric vehicles, engineering for health and safety, and more customer solutions for your underground mining operation, please reach out to our team by clicking the button below 👇.
As the Business Line Manager for Underground Mining Equipment for Epiroc USA, located in Phoenix, AZ, Clint Byington has spent two decades working in underground mining operations. He holds a B.S. in Geological and Mining Technology, and an A.S.B in Business.
---
Portions of this blog refer to the article Electrifying the Underground Mining Industry: The Shift to Electric Vehicles published recently in: Mining Engineering Magazine