The efficient replacement of worn and damaged drill rig components is an ongoing need that is critical to meeting mine production goals. Throughout the industry, remanufactured parts are emerging as valuable cost-saving alternatives to new and rebuilt components.
Remanufacturing, or reman, is a sustainable process where used drill components are remanufactured to OEM specifications to provide like-new quality and reliability with off-the-shelf availability that reduces downtime. Reman offers a solution for mining companies that want to save money and maximize their capital equipment investments, but need enhanced component performance beyond what can be achieved through a rebuild.
There are many remanufactured components available for large and mid-range blasthole drill rigs, surface drills, and rigs for water-well, exploration, and oil-and-gas applications. Remanufactured components on the market today include:
air ends

rotary heads

pumps

motors

valves

cylinders

gearboxes

final drives
It is important for mine managers, purchasers, planners and other decision-makers to understand that remanufacturing processes and quality standards can vary widely depending on the service provider. It can be difficult to predict the quality level of a remanufactured component unless the remanufacturer offers rigorous, transparent processes and a competitive warranty policy.
At Epiroc, remanufactured components match or exceed the quality of a new product. All OEM-installed reman components receive an extended warranty surpassing that of new, and get an equal to new unlimited work hour warranty for one year.
This is the intensive, documented process that each remanufactured drill rig component goes through:
The 15-Step Reman Process
Using high-quality (remanufactured) reman components can help mine managers, purchasers and planners save money and enhance performance. The combined up-front costs and long-term savings equate to superior overall value.
The remanufacturing (reman) process plays a considerable role in assuring quality, long-lasting components. Epiroc's reman process includes:
1. Preliminary Inspection
Used components are received. Cores are evaluated for wear and tear as well as completeness. Anything that does not meet quality standards is removed from the process.
Step 1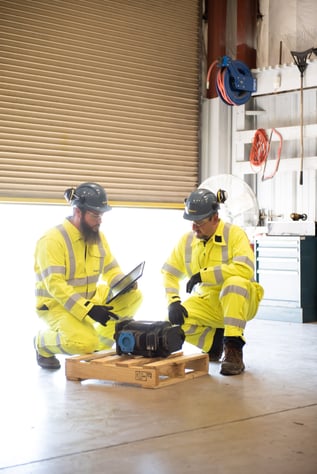 2. Clean and Wash
Components are cleaned and washed in the dirty zone to remove any external debris.
Using this designated, external area is important for containing any debris and particles so they do not contaminate other parts of the process.
This washing allows for better evaluation of the core's condition.
Step 2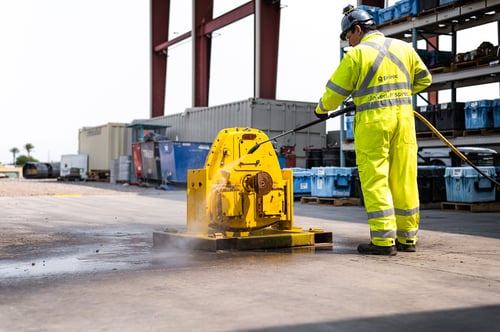 3. First External Inspection
Photos are taken at various angles and evaluated for damage and any flaws. All items are rigorously inspected and tested to ensure they meet or exceed new quality standards.
4. Second Inspection
Parts are disassembled to evaluate internal mechanisms.
Preliminary core viability is determined during this step.
Anything that does not meet quality standards is removed from the process.
| | |
| --- | --- |
| Step 3 | Step 4 |
| | |
5. Core Parts Wash
Core parts are cleaned and washed to remove dirt, debris, oil, fluid particles.
A second review of core viability is determined if the part type requires it. Anything that does not meet quality standards is removed from the process.
6. Parts List Compiled
After making it through the prior quality checks, planning and scheduling develops a parts list and timeline for the necessary replacements.
The planner schedules the complete job tracking, including core evaluation. The scheduled job takes into consideration, availability, priorities, available space, and special tooling.
7. Formal Evaluation
A planner specialist performs a formal evaluation, examining the original equipment manufacturer (OEM) specification cost and feasibility.
The complexity of various components means this step is crucial to maintaining the highest quality possible while keeping purchasing costs down.
| | |
| --- | --- |
| Step 5 | Step 6 and Step 7 |
| | |
8. Production Process Estimation
The assembly line internal process and testing timeline is estimated based on part availability, schedules, and forecasted client needs. Forecasted component demand takes into consideration estimated hours, expected hours, status, and age.
Step 8
9. Job Activation
The planning and scheduling team evaluates the details learned about the component and the final processes.
The parts inventory is confirmed.
With the details defined, lead times are able to be determined.
10. Component Assembly
The components are assembled in controlled environments with processes specific to the component. Scheduled and active assembly is based on market demand forecasting, lead time and delivery factors. based on market demand forecasting, lead time and delivery factors.
| | |
| --- | --- |
| Step 9 | Step 10 |
| | |
11. Test
After assembly, all components are thoroughly tested to the most current standards using state-of-the-art test benches.
If any part fails the test, it is replaced. Testing varies by component type, but all components must meet the OEM test protocol requirements before proceeding to the next step in the process.
Step 11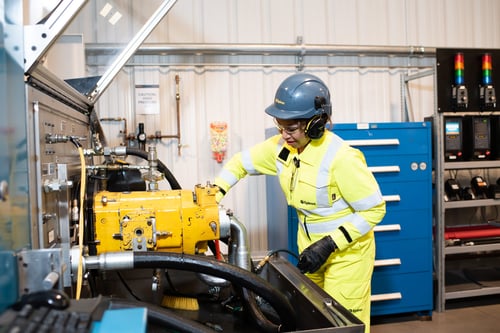 12. Paint
With the part clean, reassembled and tested, the part is ready for finishing. Parts are painted based on component specifications. After the appropriate paint processes, the parts emerge looking new, or nearly new.
Step 12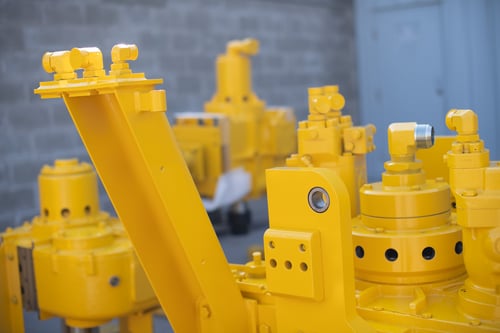 13. Inventory
Having passed the test evaluation and with the finishing steps complete, the component is placed in stock inventory at the reman center ready for packing and shipping. Testing results are shipped with all components.
Step 13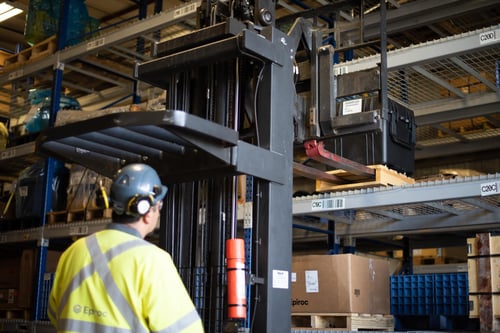 14. Pack
This prepares the component for shipping. To maintain the integrity of the part throughout the transportation process, component-specific packing and shipping crates are used.
Step 14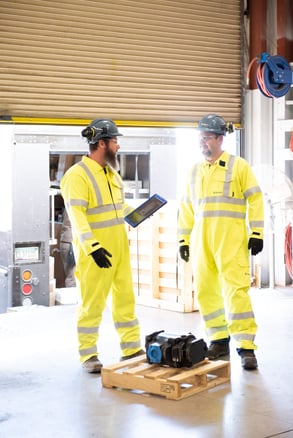 15. Ship Out
The component is shipped and delivered to the distribution center. The product is then visible to all customers for sale. Reman components are purchased through the same process a new part is purchased.
Step 15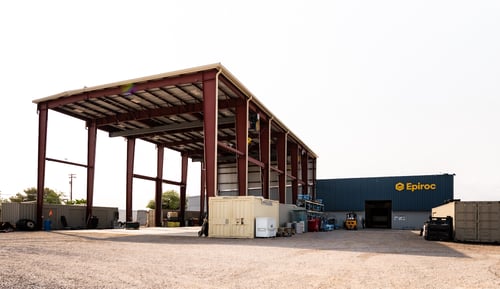 Throughout the Epiroc reman process, components and their parts are evaluated. If at any time they do not meet or exceed quality standards they are removed from the process. All wear parts are replaced as part of the process, regardless of condition. Only OEM genuine parts are used. Facilities are designed to eliminate and minimize dirt and debris throughout the process.
Due to the rigorous requirements of this reman process, products are manufactured to — and sometimes beyond — new OEM quality standards. In addition, design specifications are upgraded whenever possible.
Upon completion of the process, components are backed with a warranty like that of new OEM equipment models: a six-month, 1,000-hours warranty. An additional 12-month, unlimited-hours warranty that includes installation is also available.
Forecasting Needs
When it comes to remanufacturing, planning and forecasting can help prevent equipment failures and increase the likelihood of availability and prompt delivery of needed parts. Epiroc works with customers to predict part needs and adjusts processes to prepare parts to be ready at the anticipated time. Forecasting is based on timelines and use.
Components and Savings
Common reman components include air ends, rotary heads, pumps, motors, valves, cylinders, gearboxes and final drives on a wide range of Epiroc large and mid-range blast hole drill rigs, surface drills, and rigs for water-well.
When a reman component is received by the customer, the old component (core) is returned within 30 days. Cores that enter the reman process are genuine parts that have been removed at recommended service intervals and are then returned, as well as end-of-life cores in good working condition.
Credits are awarded to customers returning cores which can equate to component savings of up to 50-percent when compared to purchasing a new component.
Additionally, reman components enable machines to maintain efficient performance, reducing operational costs by up to 40 percent without additional inventory investments. Using reman parts significantly reduces scrap and waste materials, thus minimizing environmental impact.
Value
When considering options for part replacement, consider the overall value the part will bring to the operation. Component costs and quality, warranties, availability and installation, efficiencies to be gained by component replacement, and minimizing risk should all be considered.
Have more questions about your fleet's mid life machinery?
You can