On the East Coast, in Massachusetts, Tom Leonard with American Well & Pump was running the latest in a series of used drills and wanted one that would make his one-person jobs, easier. Should he go the pre-owned route again, or take the leap, and acquire a brand-new rig with advanced technology-- for superior ease of operation?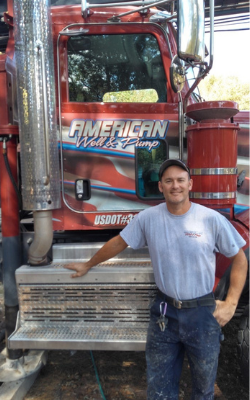 After growing up in the welding and fabrication business, Leonard started American Well & Pump on a whim.
In 2004, a family friend came through town driving a 1976 Ingersoll-Rand T3 water well drill rig. The two soon found themselves in serious conversation about Leonard buying 'the rig'.
"When my wife came home from work that day, I took her around the block to see the rig," Leonard says. "She said, 'Why are we looking at a drill rig right now?' I said, 'Because I'm thinking about starting a drilling company.' We talked to the owner for about 45 minutes and figured we'd give it a shot. The first well I ever saw being drilled was after I'd bought a rig."
Fast forward to the present day and Leonard is an experienced driller serving residential, irrigation and commercial customers in south eastern Massachusetts and Rhode Island.
The same can-do mentality that sparked a career change also defines his approach to drilling. American Well & Pump's company saying is "No Water is No Joke," and Leonard drills six days a week, often solo, as long as weather permits. That ambition and work ethic led him to a Diamondback.
After drilling for a few years with his original T3, Leonard upgraded to a used 1999 T3 and a pre-owned 2008 T3W before going looking for something different in 2019. The drill that caught his interest was the Diamondback, a flexible and technologically advanced rig that was introduced as an addition to the Epiroc water well line-up in 2018. The Diamondback was built on core features from trusted legacy products including the TH60.
"A lot of the time I'm drilling by myself, so I was looking at ease of operation as I weighed my new and used options," Leonard says. "I liked the Diamondback's wireless remote for winch control, and the ability to slide the rotary head out of the way completely when setting casing. And the electronic controls added to the ease of operation."
An ergonomically designed console is mounted off the right rear of the rig. Controls are grouped by function for easy access. Above the controllers, analog gauges are at eye level for easy viewing. Digital gauges are also displayed on the Powerview monitor screen, which provides key information including system pressures, speeds, and temperatures of hydraulic oil, engine oil and engine coolant. In addition, the Powerview screen shows fuel level, engine load and fuel rate, as well as low-level hydraulic warning and other diagnostic information.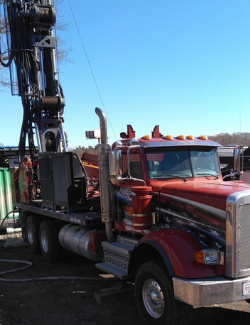 The Diamondback was introduced in 2018 as an addition to the Epiroc water well lineup to serve customer needs, while offering an extended option package to drive down total cost of operation. Leonard says the advanced technology with on board rig diagnostics is nothing to be wary of. "Not at all," he emphasizes. "I've told other drillers, you're drilling with the same power and same air, but you're letting the computer do the work. After a week, you're used to the controls. Drilling a hole is still drilling a hole."
The Diamondback's ease of operation is like nothing Leonard has experienced with previous drill rigs. He says he's not just more productive with the new rig, but he's also not as tired, and can work by himself eight or nine hours per day, and still feel good driving home at night. He says Epiroc's sales and service support teams also makes his job easier.
"When you drive away, you don't want the people you're buying from to say, 'Good luck,'" Leonard says. "They've been right there with me. Another driller in my area bought a rig manufactured by somebody else; it broke on the way to the first job and didn't run for two years, and they didn't help him all. When it came time for me to look for a new rig, I knew that Epiroc is all about supporting their customers, so I went with the Diamondback."
---
Technology at a glance:
Epiroc's Diamondback™ deck engine/PTO water well rig has a modular design - a new concept in rig design – which allows owners to reconfigure the Diamondback in response to market opportunities without special kits or makeshift fabrications, making it a truly versatile and multipurpose rig.
Load sense hydraulics and Electronic Air Regulation System (EARS)

Fixed carousel with sliding rotary head for large-diameter jobs

Multiple tower lengths and optional dump angle tower

Multi-purpose rotary head options

Advanced technology with onboard rig diagnostics

Hands-free rod loading

Wireless remote for winch controls

Pullback capacity 177.9 kN (40,000 lbs.); or 356 kN (80,000 lbs.)

Pulldown capacity 111.2 kN (30,000 lbs.).