At National EWP, a company that specializes in drilling and well services to the mining, water and energy markets, safety has been a hallmark of the complete organization since its founders, seasoned drillers themselves, established the company in 2010.
One of the surest ways to improve operational efficiency of an exploration project is to find a way to shorten trip time — without compromising safety.
That's exactly what National EWP was looking for when it put the new Epiroc DiscovOre wireline coring system and Arrow 3S overshot to the test in a side-by-side field trial at a customer's Arizona property. Both systems were run on the job's Christensen CS14.
The site superintendent explains that a key focus area for almost all wireline core drilling is reducing "hit time," or the time it takes for an overshot to lock onto the coring assembly after falling hundreds or thousands of feet through drilling mud. "Shortening the hit time when you're coring 5- and 10-foot lengths can make a huge difference over a shift. When you can consistently shorten the tube-to-tube cycle, you get more feet drilled in a day."
Greg Leavitt, Epiroc sales specialist in tooling exploration, visited the site to help with the timings. Leavitt says that while faster hit times were definitely the focus of comparison, safety is National EWP's top priority. "It's important not only to National, but their mining customers. Their customers only permit safe operators on their projects. When they choose National EWP, they know they're guaranteed that. That's why National is interested in the DiscovOre system and Arrow 3S overshot. They never stop looking for safety improvements."
The system is consistent with the National EWP "Safety. Own it." operating philosophy as well as their continuous equipment maintenance and upgrade programs. Examples include the use of state-of-the art, automated rod loaders, hands-free makeup and breakout systems, and custom-designed rod handling tools.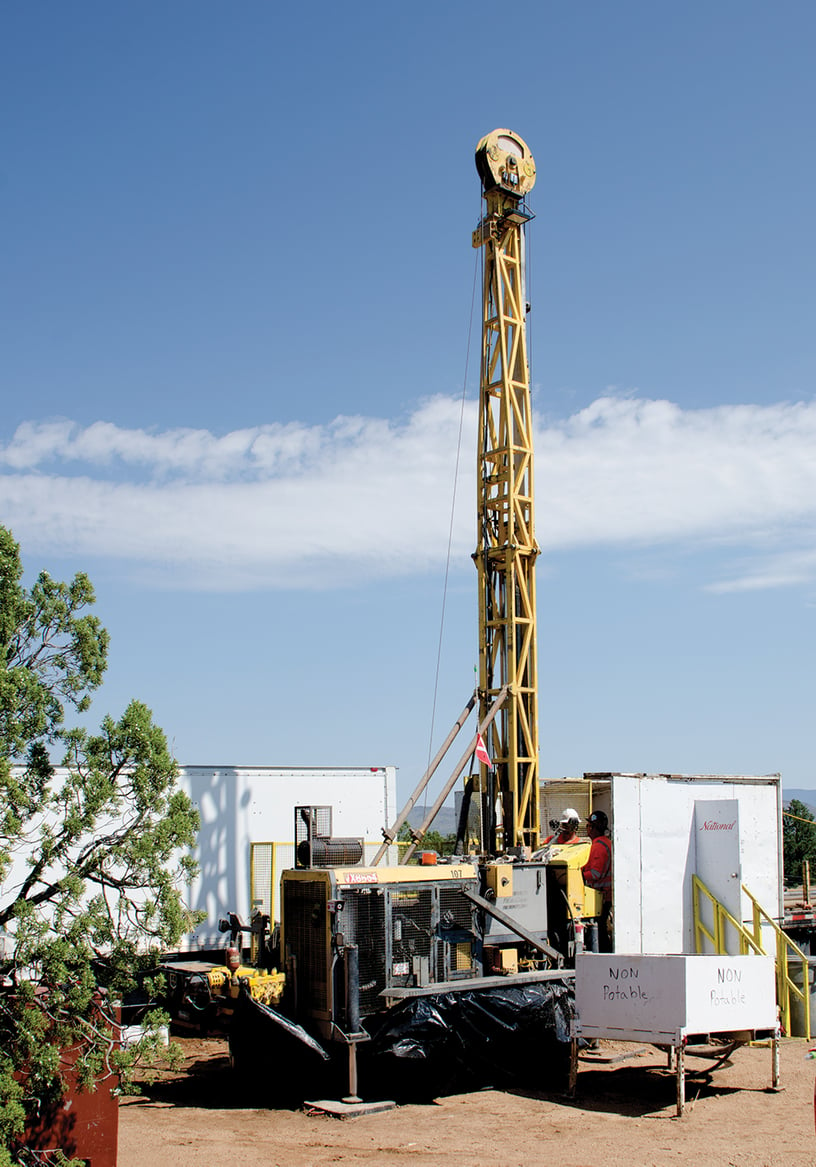 Time Trials
The National crew was completing the final hole of a five-hole survey in an especially problematic, highly fractured formation. Blockages frequently limited core lengths to just 5 feet or less. "Every extra minute waiting for the overshot to hit and lock onto the tube is multiplied by the number of trips out of the hole over each 12-hour shift," Leavitt says. "It's a significant amount of lost coring time."
The system range covers all exploration tool sizes and works with common makes of exploration drill pipe, tubes and bits. Holes ranged from 300 to 2,100 feet with HO-size tooling set up for 10-foot-long, 2.4-inch-diameter triple-tube coring. The crew alternated every other sample between the DiscovOre system and their unmodified, traditional head and overshot system, as another of the system's advantages is that it is compatible with exploration tooling the company already has.
Two National crews worked 12-hour shifts to provide round-the-clock drilling, with shift changes at 6 a.m. and 6 p.m. daily. With 100 percent return, the drill fluid's relative viscosity averaged 30 to 35 seconds throughout the shift. At times, the drillers had achieved 10 feet of core in 10 minutes. However, when extremely fractured samples caused jamming in the tube, they retrieved cores measuring 5 feet or less.
At a depth of almost 1,800 feet, the DiscovOre system's overshot was hitting in just 3.14 minutes, or 10 percent faster than the competing overshot.
Safety as Well as Time
The DiscovOre system design addresses several design weaknesses of older style wireline systems, according to the company. It completely eliminates the spearpoint, and there are no roll pins in the tube head to fail. The streamlined design decreases overall weight for greater ease and safety in handling. The Arrow 3S overshot locks into the coring assembly automatically and hits faster.
The greatest increase in safety comes from its hands-free design, eliminating human contact with parts while it's in service. Leavitt, having worked 13 years as an exploration driller himself on sites from Alaska to the Southwestern U.S., says the industry as a whole is pushing for increased safety.
"The customer National is working for now, for instance, requires a three-fold redundancy in safety mechanisms." One of those, Leavitt explains, is the helper's ability to manually twist-lock the overshot in place. "What their customer likes about the DiscovOre system is that it has an automatic latch. It doesn't need a twist lock. You don't have to touch it, and that's the ultimate in safety."
Revolutionary Design
Growth in the '50s fueled new technology, and in 1953, Longyear applied for a patent on the first wireline core retrieval system, the Q™ Wireline. Tom Shenosky, Epiroc product manager of Exploration Rock Drilling Tools, says many wireline tooling systems produced by various manufacturers over the years have, for the most part, simply continued the original system's design based on spearhead, roll pins and open bearing assembly.
That changes with the DiscovOre. The overshot and tube head are key focus points for improving both efficiency and safety. The system has no spearhead and no roll pin in the head assembly, with sealed bearings and a sleek design, reducing its mass by about 10 pounds.
The streamlined profile of the Arrow 3S overshot allows it to pass through drilling fluid faster for quicker descents, Epiroc says.
"Its contoured shape also provides helpers a better grip as they attach it to or remove it from the cable," Shenosky says.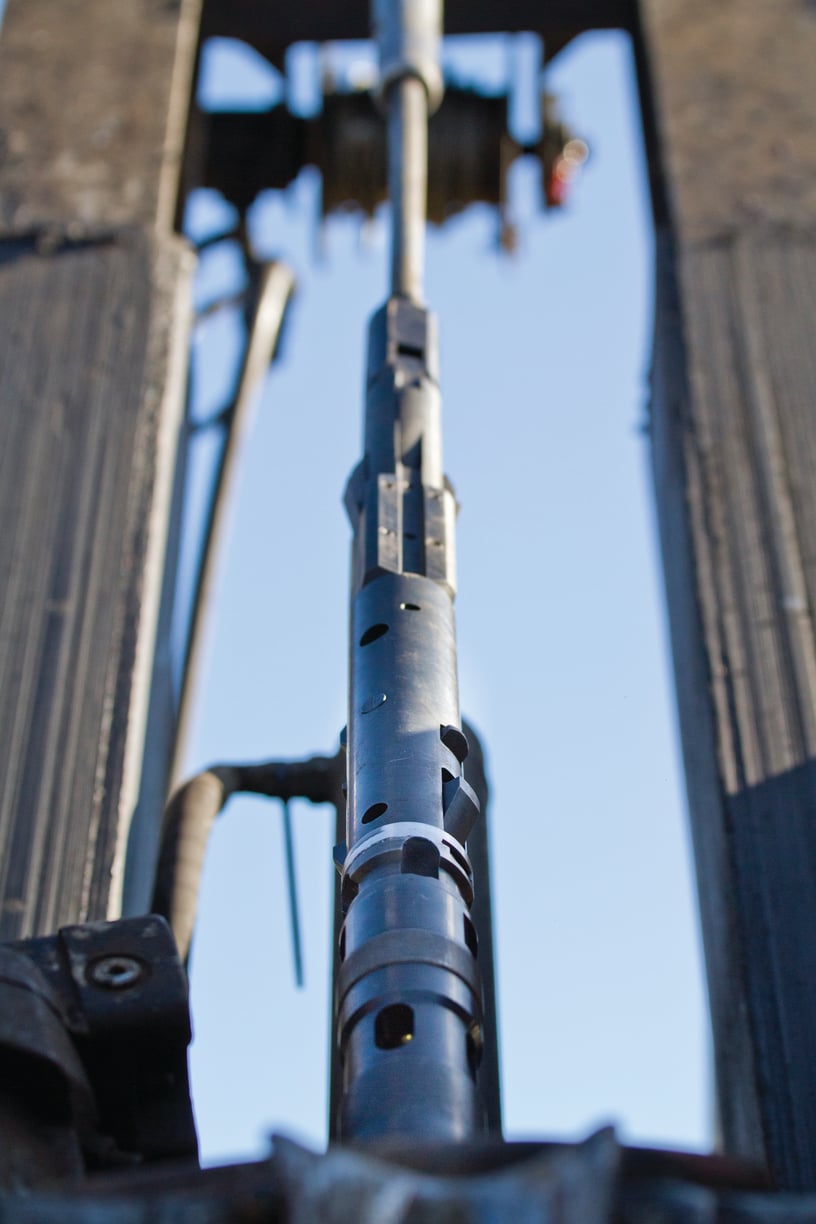 The DiscovOre and Arrow 3S design "flips" the locking system. Instead of a spearpoint that plunges into an overshot assembly, the Arrow 3S latching takes places within the head assembly. The company says the design isn't just safer on the string. A common safety practice for other systems is to fold a spearpoint down when it is on the rack waiting for reuse. But spearpoint roll pins commonly jam up after they have been in use for some time. When handlers can no longer fold them to the side, they are left extended straight out from the body, presenting a risk of injury to workers moving around them.
"The DiscovOre design improves latch engagement, reduces risk of jammed inner tubes, and allows quick conversion to any hole orientation," Shenosky says. "The quality latches and spindle also help it have a long service life."
The roll pin and the spearhead are the sole points of support, core after core, all shift long, day after day. That makes them critical wear points and common cause of premature failure. When they fail inside a hole, exploration drillers waste production time trying to fetch the tube out. Failing outside of the hole results in heavy tubes dangerously bouncing around a helper and driller in a confined work space. The company says DiscovOre eliminates the spearhead and the roll pins in the tube head altogether, providing not only safer, but more reliable and more efficient solution for wireline systems.
About the Author:
Mila Armer is the Marketing and Communications Manager for Epiroc USA. With expertise in strategic marketing within a global matrix organization, Ms. Armer's main focus areas are brand activation in B2B environment, public relations, content marketing, and demand generation. She holds an MBA in Marketing as well as various certifications related to media arts, broadcasting and journalism. In addition, she has a vast experience in manufacturing, energy and infrastructure sectors, including oil and gas, LNG, chem/petrochem, power generation / geothermal, underground and surface drilling, construction, as well as motor-vehicle, offroad, robotics, IT/engineering.
*The article appeared in National Driller magazine in August, 2018.