Company co-managers of Aggregate Resource Industries, Inc. (ARI) of Oregon, Kris and Katie Jeremiah, believe that technology leads to safer workers, more profitable customers, and a lower environmental impact.
The brother-and-sister tandem recently partnered with Epiroc to add remote drilling automation technology to help pursue their goals for the family business.
Epiroc offers BenchREMOTE, a unique remote operator station, and ARI is successfully using the technology on a surface crawler rig. The company set up the BenchREMOTE in a van for mobility on site and across its large service territory.
"New technology has allowed us to provide better service to our customers. It's also allowed us to attract the new wave of workforce that's coming in" said Katie.
The BenchREMOTE can operate up to three rigs from up to 320 feet away. Advantages include increased productivity and efficiency, enhanced safety and an improved operator working environment.
"The remote drilling has allowed us to leverage our experienced, qualified operators to run multiple drill rigs at the same time on job sites," Kris said. "It keeps our operators a safe distance away from high walls and faces while giving additional production to our fleet."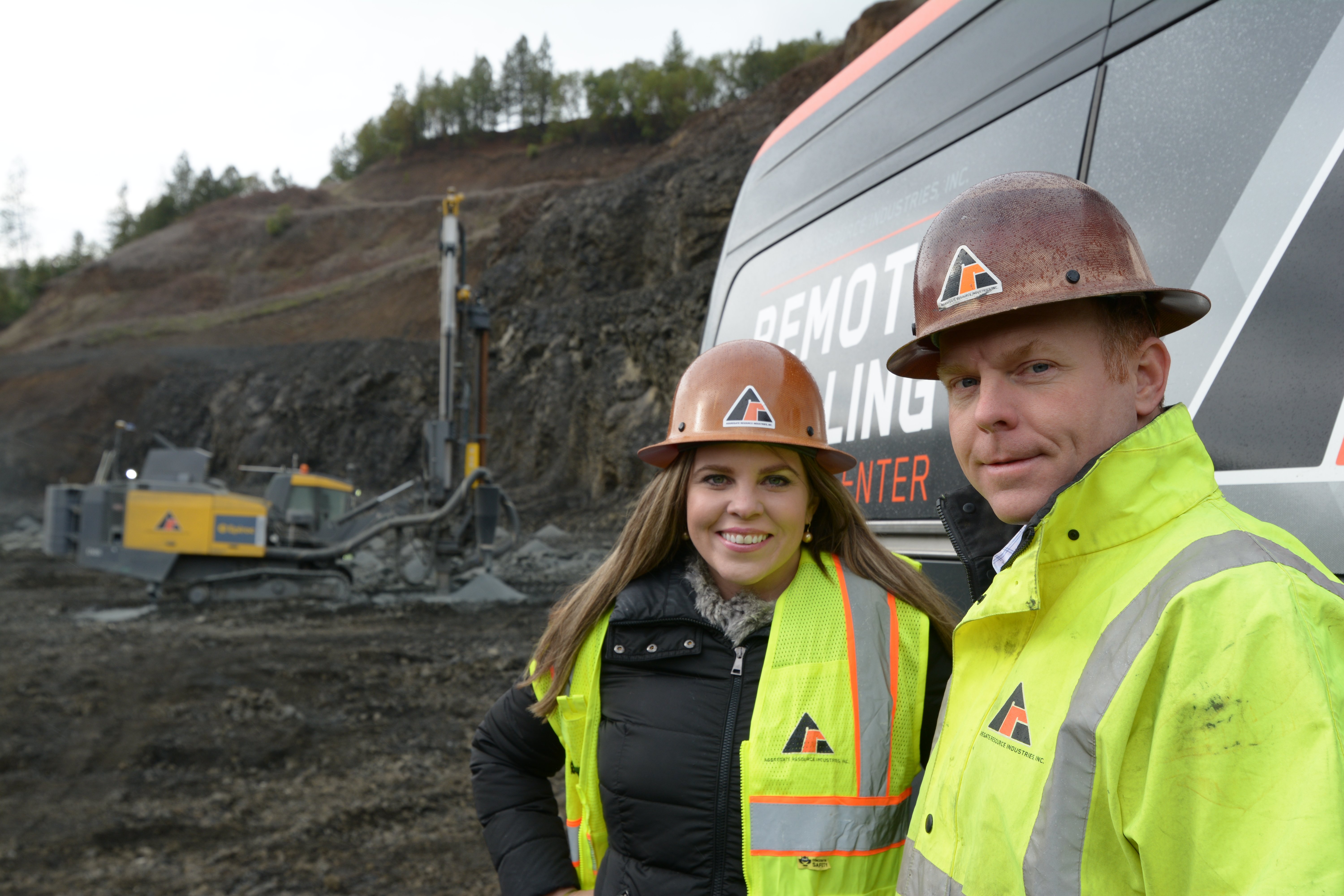 Pictured above: Kris and Katie Jeremiah. Katie handles strategic business planning, develops compliance programs and oversees agreements and contracts. Kris manages day-to-day operations and logistics for the company that does drilling and blasting across nine states – from quarries to gold mines.
According to plan
The Jeremiahs are quick to spot advantages of high-tech solutions. Katie prides herself on taking a specific project challenge and finding the right technology solution. "I've always been accused of being a tech nerd," Katie said. "Now it's paying off."
High-tech drilling with the SmartROC D65 starts with Epiroc's Hole Navigation System (HNS), which makes setup and planning faster and more precise. Operators and surveyors don't have to work outside in potentially dangerous areas because the site has been pre-planned. A blasting engineer plans the site based on photos and a Global Navigation Satellite System (GNSS). The plan is sent right to the SmartROC.
The SmartROC also comes with a Trimble system, a high-accuracy GNSS correction technology. "We are running on CenterPoint RTX from Trimble with very high accuracy," said Troy Thiel, ARI's Epiroc contact for sales and a former expert service tech. "This is a great option for machines that move a lot."
Epiroc's SmartROC D65 adds rods and extracts them automatically when it reaches depth. The rig adjusts drilling parameters to gradual or sudden changes. Reduced deviation is easier on both tooling and the rig. It ensures parallel holes within the pattern for better blasting control. ARI's blasting crew reported that the Epiroc rigs have changed their results dramatically for the better.
"This is 100 percent better than anything I've run in the past," operator Jay Lawhon said after spending a few months behind the BenchREMOTE. "I've run faster drills, but they used a lot more fuel. The D65 is up for anything that we can do with it, technology-wise."
Transitioning to operating two rigs from a distance wasn't difficult, said Lawhon. "Once you get your timing down, it is easy," he said. The operator confirmed he has nearly doubled feet drilled per day with the two rigs at all the sites he's taken the rig to.
Lawhon appreciates the noise reduction when working from the BenchREMOTE. "And I'm out of the elements for longer periods, so that's a big plus," he said.
Keeping employees happy was a part of the decision. "Drillers are embracing the technology," Katie said. "The drill technology takes an inexperienced driller and makes him proficient in a short period of time. Getting the right operators and training them, then giving them the tools to do their best helps us with employee retention."
Added Kris, "An operator is human and has limitations and good and bad days. The automatic drill doesn't have those same days. Get on the pattern and automation can work all day. It comes back to our bidding and how we can be predictable and therefore profitable."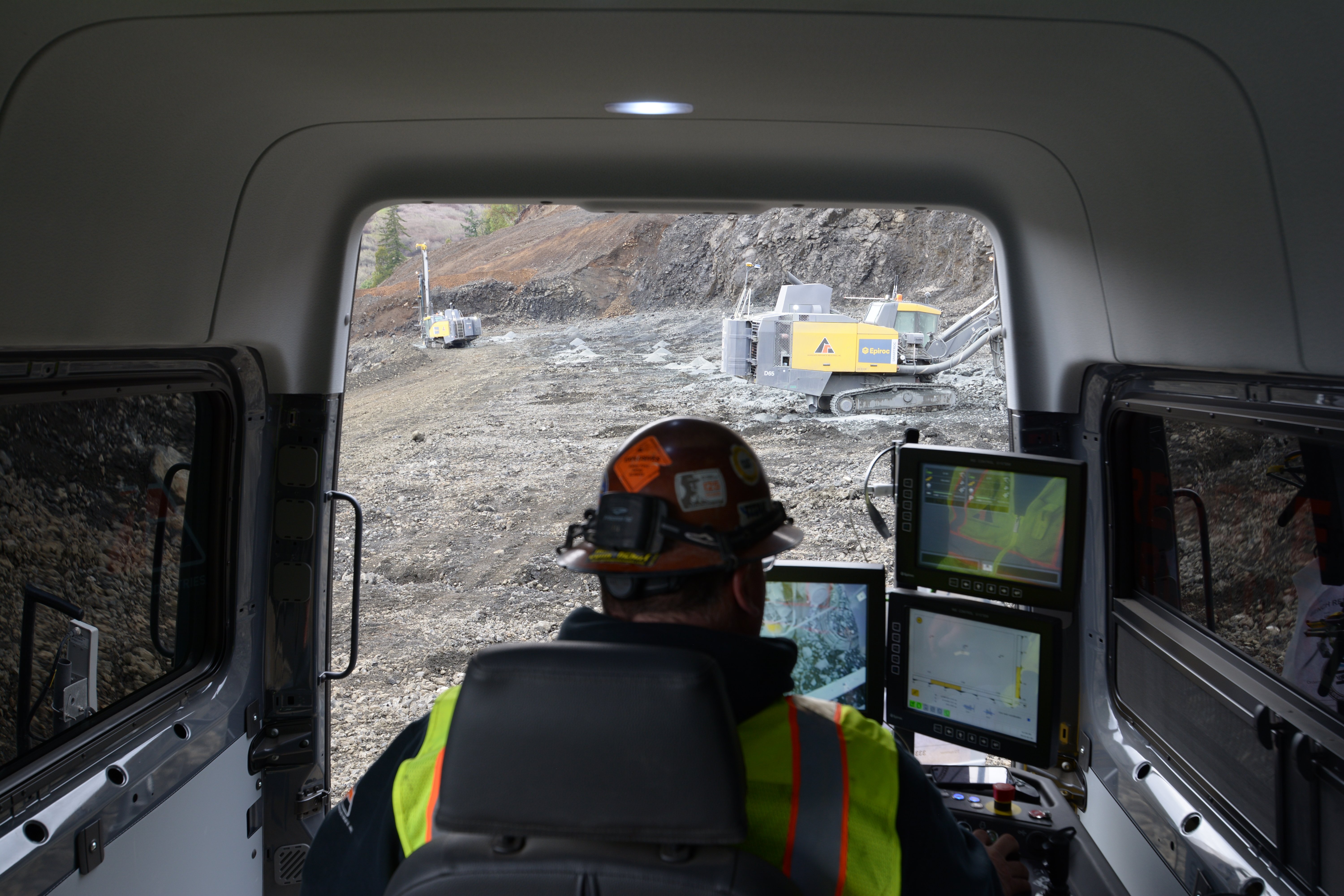 Pictured above: Jay Lawhorn operates two rigs from a single BenchREMOTE station set up inside a van. The BenchREMOTE controls and displays are identical to those in the rig so it's an easy transition for drillers already using Epiroc.
The future is now
When drilling and blasting is completed, and even during its process, data tracking is a key part of ARI strategy.
Certiq is a telematics solution that comes on some Epiroc rigs. "What's good about Certiq is it can simplify your analysis," Thiel said. Certiq allows Thiel and ARI to log in at any time and check on productivity.
"With Certiq, if there's an issue, we can troubleshoot remotely, which is great for the size of territory that we cover," said Kris.
As the rig ages, Certiq will help ARI plan for downtime or maintenance. Automation technology has increased their efficiency for billing and for reconciling projects with the plans on any number of data points.
"Automation is important for consistency and planning, but we'll always have a personal touch," Katie said. "Every evolution in technology has helped us hone in on the standards we want to keep. We want our customers and our employees to say we are the best."
The Jeremiahs are already thinking of even greater automation — and fully autonomous drilling is not out of the question. It will come in steps. The next is off-site teleremote drilling operations from a control station anywhere in the world.
For ARI, the current state of the art is a moving target. And they will be happy to sit at the controllers.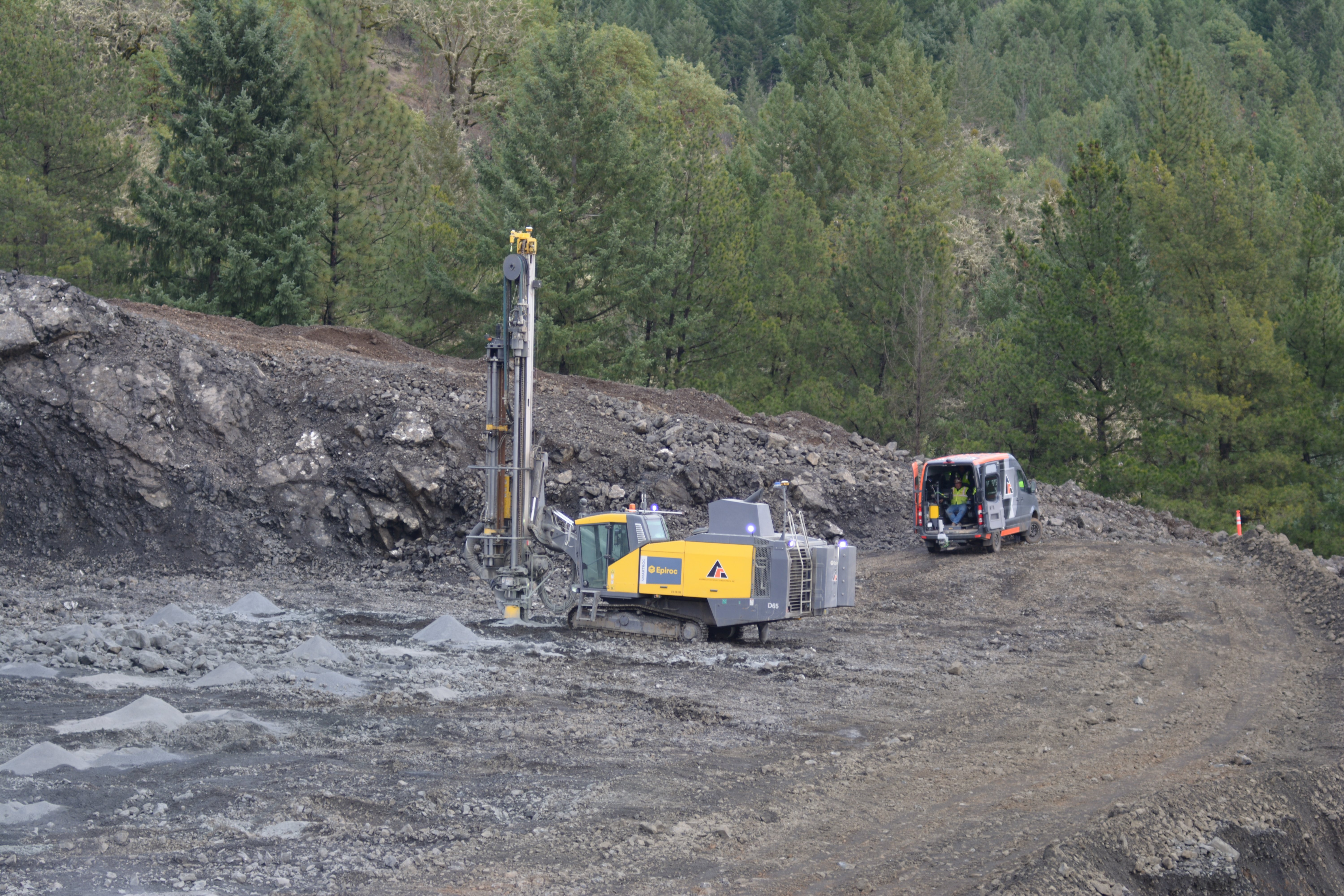 ---
Want to learn more about Epiroc's automation technology for your own operation? Click the button below to set up a demonstration with one of our automation experts.
About the author:
Mila Armer is the Marketing and Communications Manager for Epiroc USA. With expertise in strategic marketing within a global matrix organization, Ms. Armer's main focus areas are brand activation in B2B environment, public relations, content marketing, and demand generation. She holds an MBA in Marketing as well as various certifications related to media arts, broadcasting and journalism. In addition, she has a vast experience in manufacturing, energy and infrastructure sectors, including oil and gas, LNG, chem/petrochem, power generation / geothermal, underground and surface drilling, construction, as well as motor-vehicle, offroad, robotics, IT/engineering.