Data analytics covers a broad range of solutions, ranging from robust systems with large user bases and data sets, to specific accounts, applications, operations and self-service data.
Both the mining and construction industries can benefit from data analytics. From the largest mine in the world, to the smallest, from the largest construction fleet, to a small operation, data analytics allows for better management, and the predictability of productivity.
Connected machines deliver a wealth of data that can be interpreted and converted into usable insights to maximize operational performance. Epiroc has thousands of connected machines worldwide, and recently connected 1,000 machines in the U.S.
By putting high-quality data in front of the right people, additional insights can be gained and operations improved. Operational performance is the main reason more and more mines and infrastructure companies are using data analytics. Data and analysis can:
Improve day-to-day tracking and reporting

Increase accuracy and speed when identifying problems and solving them

Enable better decision making
It is key to understand the importance of data availability and quality. First, data needs to be collected. That data needs to either be high-quality when it comes in, or a second step, to curate the data, so it can be used in a meaningful way.
A big step toward having high-quality, accessible data is moving processes away from manual, to digital based on, data. This function of change management involves getting people on board with the process, by sharing what is going on, how the data will be used, and why it is important to the goals of the mine.
The benefits of tackling the data analytics process are numerous. Many mine production losses are solvable today, if the problems are made visible and correctly quantified. The following are some of the biggest advantages of data analytics that impact a mine's ability to achieve operational excellence.
Day-to-day tracking and reporting
Data analytics can help eliminate busywork and create faster on-time reporting. The time previously spent on reporting, handwritten or otherwise, can now be focused on analysis, interpretation, and decision making. Expediting information flow between assets and systems gets information to the right place at the right time.
Automated data collection also ensures data is more consistent and reliable. Data, like the current state of a machine, is automatically logged and reported. There are fewer handwritten notes, verbal communications and errors in data entries.
The digital transformation leads to even more efficiencies when data is automatically integrated into a mine or construction site's workflow.
For example, a planning tool populated with relevant data can allow a team to speed up shift-start meetings and more accurately give team members direction. An additional example would be mine control, room spending less time recording data, and having more time and attention to dedicate to giving better direction.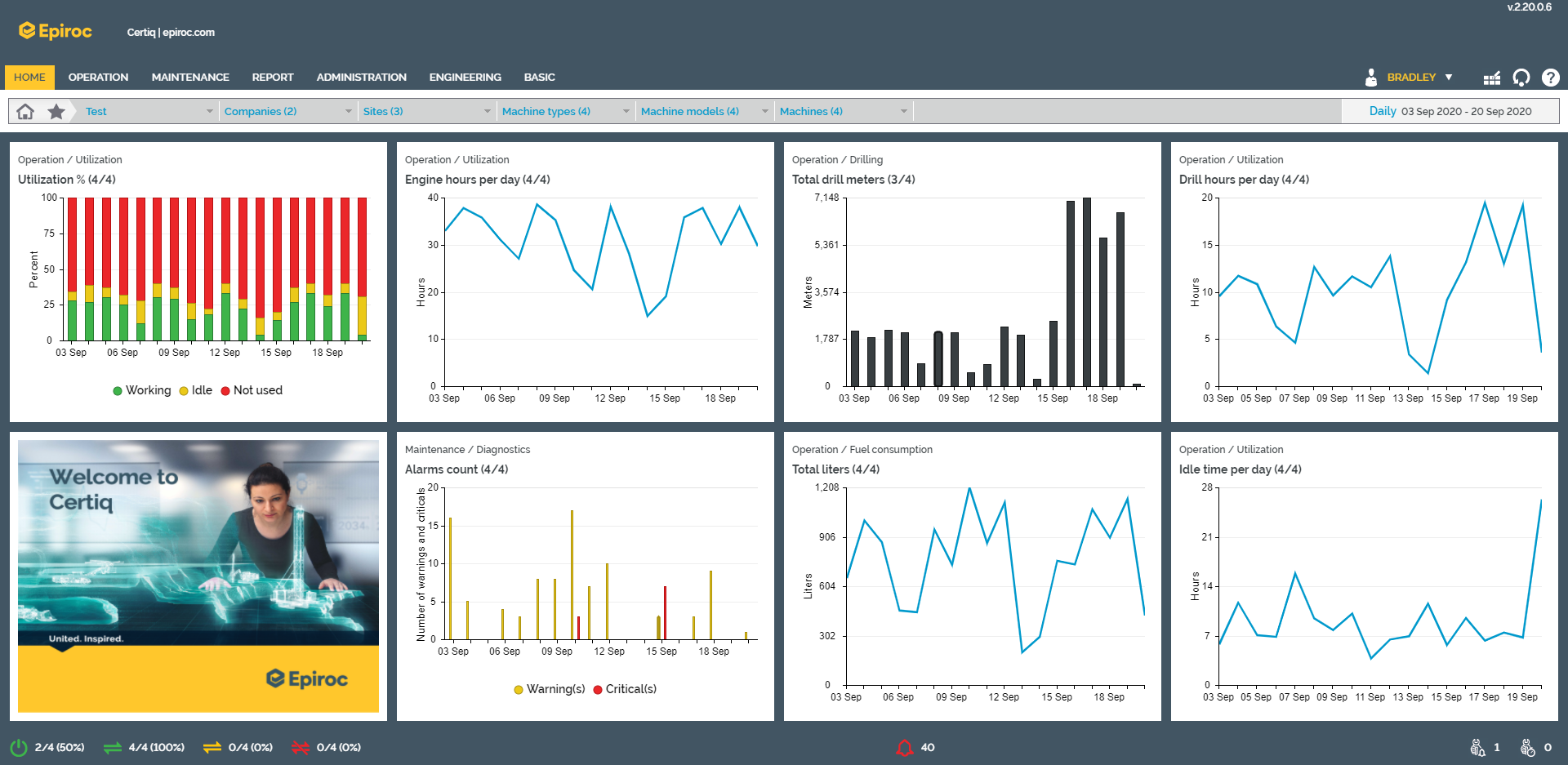 Telematics solutions like Certiq gather, compare and communicate vital equipment information with the right team members through a user-friendly web portal. This helps optimize workflow, improve day-to-day tracking and reporting, and enhance monitoring, and management of equipment fleets. Information is also recorded in Certiq for later use in training, assessment and planning. Fleet management is ideal for both the mining and construction industries.
Identifying and solving problems
One of the biggest advantages of digitizing and reporting data is the ability to make it available to more than just analysts. This allows for a broader range of ideas and understanding when looking at the data. Making this connection — expanding the user base to engineers, maintenance, operations and more — enables the greatest insights and improvements to operations.
By putting the data in the hands of people making decisions, and those closest to the process, this analysis can be performed by those who have the most knowledge on the issue, and the best chance of understanding what the data reports. Problems are more easily defined and those actionable insights can be easily shared, making incremental improvements to maximize productivity.
For example, without data reporting an oil change is necessary, an operator might erroneously suspect an engine fault is the cause of an issue. When the repair team comes, they are able to arrive equipped to fix the problem rather than needing to first determine what the problem is, or showing up ill-equipped to remedy the issue. This can allow for mine assets to return to operation faster.
Not only does data availability make identifying problems easier and faster, it also allows for more accuracy when looking back at performance. It takes a lot of the guesswork out of operations reporting, providing real rationale for production fluctuation and other key markers.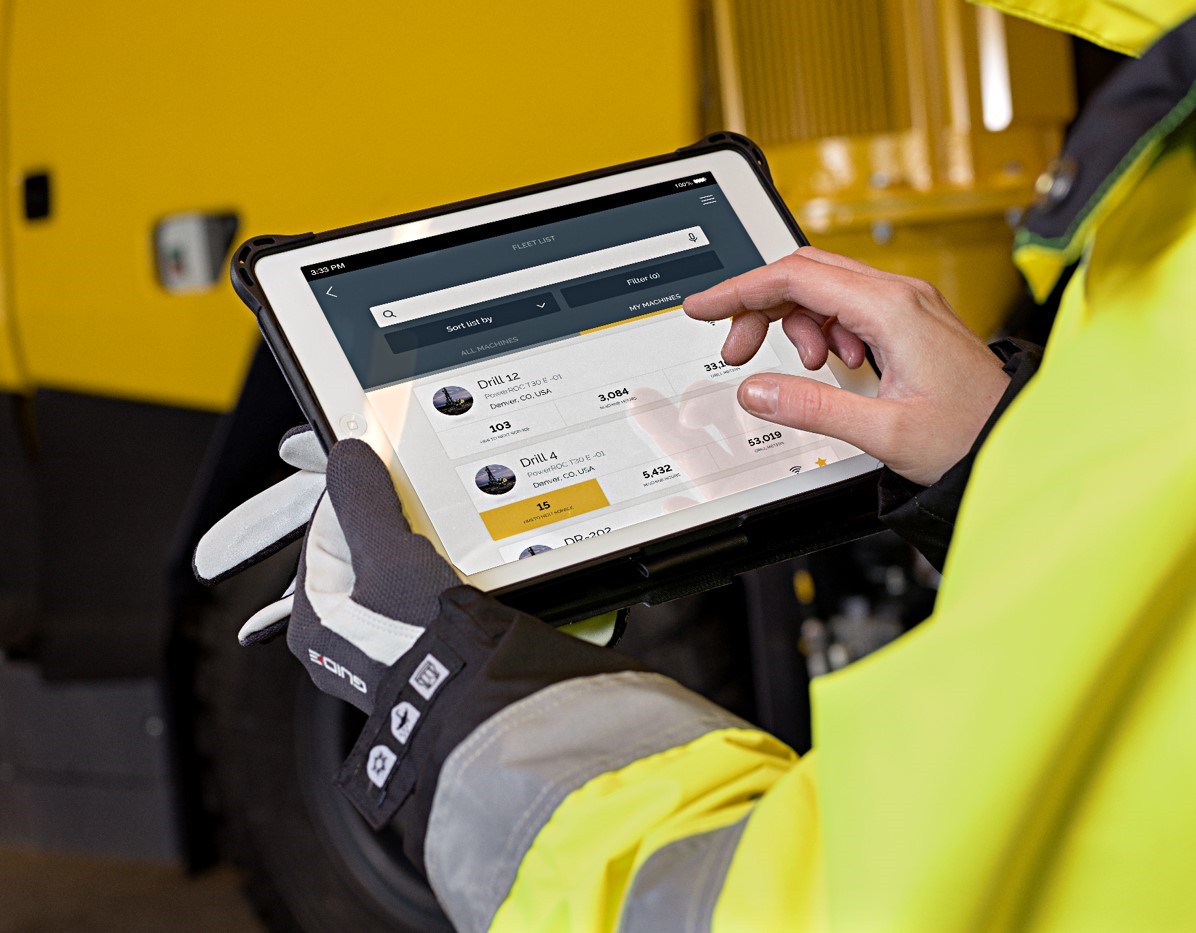 Fleet management tool My Epiroc optimizes workflow, efficiency and safety in the mining and construction industries by helping users keep track of productivity with relevant alerts and status updates. This allows for faster, easier identification of problems and solutions. Workflow, uptime and equipment performance can all be improved through collaboration using a fleet management tool like My Epiroc.
Data-driven decision making
Using data to drive key performance indicators (KPIs), long-term decision making is a much more accurate process. Crude estimations are replaced with focused long-term business cases. Connecting the unconnected means a smarter, integrated operation that increases efficiency.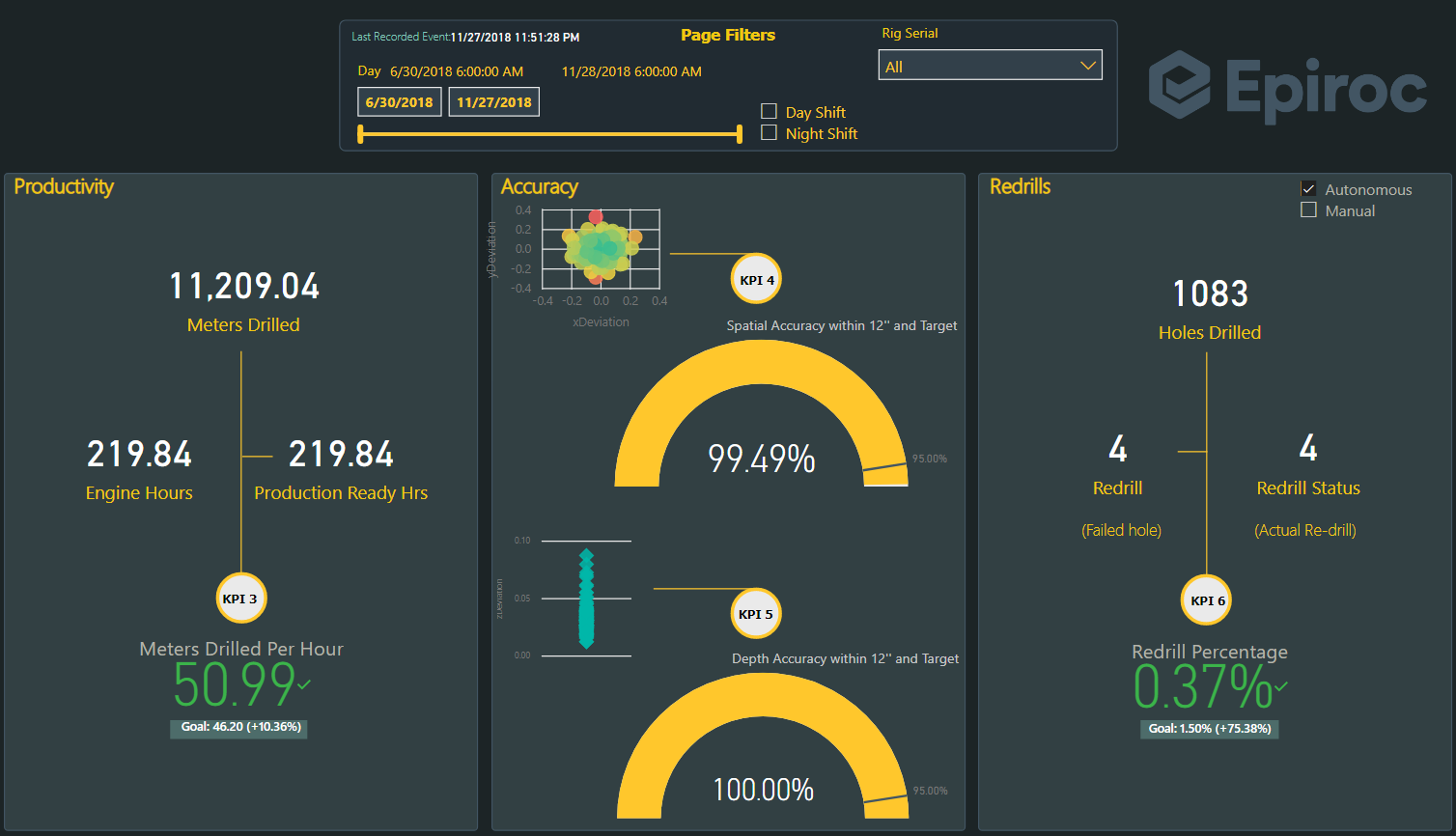 Additionally, with a more accurate picture of what is happening, resources can be deployed to where they create the greatest value. Issues causing the most asset downtime can be prioritized based on data to deliver the greatest production gains in the shortest time.
For example, autonomous machine stoppages could be primarily attributed to network communication errors instead of operational faults. Knowing this means resources could be first deployed to improving the coverage and reliability of the network rather than spending resources masking the problem with operational changes.
From connected equipment, to digital fleet management, to different levels of automation, Epiroc 6th Sense solutions aid in digitalization.
Digitalization allows for data-driven decision making. 6th Sense synchronizes people, processes and technology to improve operations. This translates to increased productivity, maximized safety, reduced costs, and enhanced sustainability.
Benefits of clarity
Data analytics provides operations with clarity. This clarity brings simplicity to day-to-day operations, to problem solving, and to long-term decision-making. Unless high-quality data gets in front of the right people, these simple solutions often aren't realized. Applying good data and experience will improve mining and construction operations.
Whether your internal team needs access to data through modern interfaces, integration of applications and systems, or you are looking for automated reporting, it's important to find the right partner.
Look for a team that takes an ecosystem view on automation and works with open data. The right partner helps to not only improve operations now, but also provides the foundation for long-term operational excellence.
To reach out to Epiroc's Data Analytics team with questions: